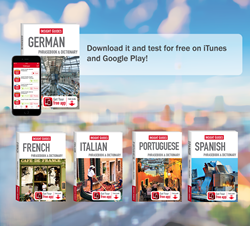 (PRWEB UK) 18 May 2015
Whether planning an international trip for business or leisure, this travel checklist will help you to prepare for your next trip:

Make sure you have valid travel insurance
Check what vaccinations are required at least 6 weeks before travel
Read up on local laws and customs
Notify family and friends of your plans and leave them copies of all travel documents
Get a European Health Insurance Card for free or reduced emergency medical care in Europe
Check the passport and visa requirements for the country you are visiting
Download an offline phrasebook app in the language of the country you are visiting before you travel to avoid high roaming charges and to help you communicate with ease
International travel can be exciting but it can also give rise to many unpredictable and sometimes dangerous situations that are difficult to prepare for. If you are traveling overseas, a reliable offline phrasebook is the perfect aide to getting around and asking for help, if needed.
The Insight Guides Phrasebook app is packed with all the words and phrases you need from 'How do I get to town?' to 'Can I join you?' and covers multiple everyday situations. The app is easy to use with a fast search engine, cleverly categorized content and simplified phonetics for easy pronunciation. Featuring audio of all the most essential phrases you "Need to Know" spoken by native speakers, this is the perfect app for stress-free travels. Additional, useful learning features allow you to add words and phrases to your "Favorites", as well as quickly review your most recent searches.
Key features include:

Up to 1,300 words and phrases covering typical travel situations
Additional travel dictionary containing up to 1,100 entries
Menu Reader – order meals out with ease
Text search, wildcard search, lists of synonyms and anagram search
Audio pronunciation of frequently used phrases, recorded by native-speakers
Favorites – keep the most important words and phrases to hand
See your recently viewed entries under History
Flash Cards Quiz to test your progress
Landscape mode support
Flexible font size settings
Once purchased, the phrase books can be easily restored at any time
No ongoing Internet connection required
Availability
The Insight Guides Phrasebook apps are available in French, German, Italian, Portuguese and Spanish for iOS and Android-based devices. The app can be downloaded and tested for free at:
https://itunes.apple.com/ru/app/insight-guides-phrasebooks/id960297807?mt=8? or
https://play.google.com/store/apps/details?id=com.insightguides.phrasebook
Individual complete dictionaries are available for in-app purchase for $4.99 each. A special, full-pack offer of 5 phrasebooks is currently available at just $12,99. The apps support iOS 7.0 or Android 2.2 and above.
About Apa Publications
Apa Publications produces Insight Travel Guides and Berlitz travel and language-learning guides. The company has over 40 years' experience of publishing high-quality, visual travel guides translated into 19 languages and sold worldwide. Apa Publications aims to inspire your travels through detailed information in beautifully designed and produced printed guidebooks, picture-packed eBooks, and easy-to-use apps.
About Paragon Software Group
Paragon Software Group is an innovative software developer focused on two dynamic growth markets. The company's comprehensive product line for the data storage market addresses the needs of data security, storage and management for PCs, servers and networks. A second portfolio of products focuses on mobile productivity applications for handheld devices. Founded in 1994, Paragon Software Group has offices in the USA, Germany, Japan, Poland, Russia and China delivering its solutions to consumers, small business and enterprise clients worldwide through a network of Value Added Resellers, distributors and OEMs as well as online through the company website. For more information please visit the company's mobility division site: http://www.slovoed.com