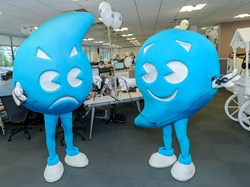 Coventry (PRWEB UK) 19 May 2015
Orbit, which manages 38,000 homes and has 100,000 customers, is working in partnership with customer engagement specialists, Rant & Rave, to implement the new system.
The Rant & Rave system will ask customers for feedback via text message, voice message or email. This feedback is uploaded onto the Rant & Rave dashboard which members of staff can log into, enabling them to quickly see any negative comments they need to react to – and celebrate any great feedback for staff.
Louise Oakley, Director of Service Excellence at Orbit Group, said: "As part of Orbit's 2020 Vision of reaching 90% customer satisfaction and having 75% of customers accessing services online, this is an important step forward in making sure we are meeting customers' needs. We want to be able to give our customers the best service possible and this new technology helps us do that.
"Before we launched Rant & Rave we had telephone surveys which gave us a snapshot of an individual's opinion but it was very limited. With the introduction of Rant & Rave we can find out what our customers are thinking in real-time – we can easily pinpoint where we're going right and wrong, and most importantly give people a voice and the chance to air their views as soon as they've finished on the phone."
Dennis Fois, CEO of Rant & Rave, said: "Expectation of excellent customer service is at an all-time high. Housing associations are in a unique position where customer service can easily be overlooked. However, Orbit Group is leading the way in customer service, ensuring they are giving their customers a voice and most importantly acting upon it. We are very pleased to support Orbit in its mission to achieve its 2020 ambitions."
Rant & Rave is an award winning provider of SaaS Customer Engagement solutions based in Coventry. They help organisations deliver great customer experience, listing half of the FTSE as clients.
*Ends*
http://www.rantandrave.com / http://www.orbit.org
Louise Oakley and Dennis Fois are available for interview. For press enquiries please contact kat.adams(at)staturepr(dot)com on 0207 100 0858
About Rant & Rave

Its multi-channel solutions let brands proactively communicate with and gather fast feedback from their customers to manage and measure their experience. By providing solutions which are customer, not brand, centric Rant & Rave helps its clients to transform Ranters into Ravers and turn happy customers into lifelong advocates.
To find out more about Rant & Rave visit http://www.rantandrave.com.
About Orbit Group
Orbit Group is one of the largest housing organisations in the country and is listed as one of the top five landlords in the UK by sector magazine, 24 Housing. We provide more than 38,000 high-quality homes in the Midlands, the South East and the East of England. Our operating associations, Orbit Heart of England, Orbit East and Orbit South, help to build strong communities and meet local housing needs in more than 100 local authority areas. Orbit Homes, our development and sales organisation, develops and sells more than 1,000 a year. Orbit Services offers a full range of back office functions and specialist support to external clients. We are a modern and dynamic social business with a shared ambition of 'Building Communities'.
http://www.orbit.org.uk
http://www.orbitstory.org.uk
@orbitgroup