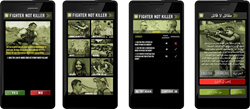 In order for armed groups to respect the law of war, it is vital that they learn about it and appropriate its tenets.
Geneva (PRWEB UK) 19 May 2015
Can a hospital be targeted if the enemy is inside and is shooting from it? Is it allowed to pretend to surrender in order to attack an enemy by surprise? These are the types of questions—and they sometimes involve complex answers—that many combatants in armed groups might ask themselves in conflict areas. Geneva Call's new mobile application quiz - Fighter, not Killer- is available in English, French and Arabic and provides the answers to these questions in a simple yet meticulous way.
It can be downloaded on

Two years ago, Geneva Call launched a video campaign to raise awareness of the law of war (international humanitarian law) among the Syrian opposition. Today, it is launching a mobile phone application, available on both iPhones and Android phones, in order to raise awareness of the law of war among combatants, commanders, officers, political leaders and civilian populations everywhere.
The quiz has two levels of difficulty and 28 scenarios. Users are faced with true-to-life situations and questions related to war tactics, assisting the wounded, the use of certain weapons, child protection or the conduct of hostilities. If they answer correctly, users can access the Commander Level; here they will be confronted with more intricate scenarios and they will receive a certificate of achievement if they are successful.
Disseminating the law of war to warring parties, and in particular to armed groups, is essential to ensuring the protection of civilian populations during conflicts. However, this remains a major challenge as the members of these armed groups have rarely received a basic training, have varying levels of education and are located in remote areas. This application will try, at least partially, to overcome these difficulties.
"In order for armed groups to respect the law of war, it is vital that they learn about it and appropriate its tenets. This mobile application is a tool—alongside our illustrated booklets and videos—that will complement our dialogue and training in the field. It will lead to an even broader dissemination of the rules that protect civilians in conflict," added Elisabeth Decrey Warner, Geneva Call's President.
About Geneva Call
Geneva Call is a non-governmental organization that engages armed non-State actors towards respect of international humanitarian norms, in particular those related to the protection of civilians in armed conflict. In 2015, it engages more than 50 armed groups on the protection of civilians.