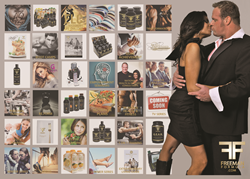 We are elated to announce that Freeman Formula products are now for sale on Amazon.com
(PRWEB) May 20, 2015
Freeman Formula, a brand that produces a line of high-quality nutritional products geared toward people striving to meet their ambitious goals, announced its products are now available for purchase on Amazon.com, the world's largest online retailer.
Freeman Formula products come in a variety of forms, including supplements, meal replacement shakes, liquid formulas and more. The Freemans are both experts in goal setting and achieving, and began developing these products as a way to help their fitness clients to reach their goals in a healthy, nutritious way. Now their products are available to a wider audience than ever.
"We are elated to announce that Freeman Formula products are now for sale on Amazon.com," said Jeramy Freeman, co-founder of Freeman Formula. "Many people are missing a trusted method of getting the nutrition and energy assistance they need, to dominate their daily lives. These products offer a natural; scientifically backed way for everyone from the busy professional to the overscheduled mom to conquer anything life throws their way. Whether it is getting their bodies into the best condition they've ever been in or living longer and a healthier life. Freeman Formula is all about helping people to achieve excellence, in everything they do."
The company now has products on Amazon that focus on a number of areas of wellness. The Synergize multivitamin for men and women keeps the immune system strong to combat the ever-increasing stress of a heavy workload. Alkalize neutralizes acidosis and assists the body's natural buffering system. NvirOBurn is a concentrated formula that creates an optimal environment within your body for burning fat and stimulating metabolism. Insynerate is another formula designed to maximize the use of stored body fat and increase metabolism. Relief provides users with much-needed support for their joints, as well as relief from pain, inflammation, joint and cartilage damage.
In addition to these formulas and supplements, Amazon.com will also carry Freeman Formula's High Frequency Superfood Formula and G.E.A.R. The High Frequency Superfood Formula is a product containing three nutrient-dense superfoods. G.E.A.R. (Growth for Elite Athletic Response) is a line of supplements meant to increase athletic performance and recovery. It comes in flavors such as ultimate chocolate indulgence, dreamy orange creamsicle and passion peach mango.
"Freeman Formula has products to help with all areas of health and wellness," said Freeman. "Now, thanks to these products being available via Amazon.com, we will be able to help more people than ever before to look and feel good while living an extraordinary life. We are excited for this opportunity."
To learn more about Freeman Formula and its products, visit http://www.freemanformula.com.