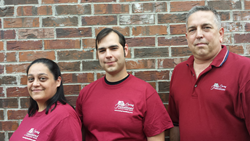 San Antonio, TX (PRWEB) May 18, 2015
The Bleichwehl family has always been committed to service, so when Scott retired from the Army after more than 30 years, he knew he wanted to find a career that would allow him to continue to serve others. That's why he decided to put down roots in San Antonio with his wife Mary Lou and open the area's only Caring Transitions business with his son Benjamin and daughter-in-law Leilani.
Caring Transitions is America's largest resource specializing in managing relocations for seniors and busy families as well as downsizing and estate liquidations. In addition to the organizing, packing and move oversight, Caring Transitions can handle on-site and online estate sales, liquidations, preparing homes for market, and storage locker clean-outs. Caring Transitions of San Antonio is based on the north side of town, but the company serves the entire San Antonio metro area.
"We understand what it means to serve others and opening this Caring Transitions franchise gives us the opportunity to serve seniors and families in our area who are facing one of life's more challenging times. Caring Transitions is a full service company that can take over the relocation and estate tasks for you so you can spend time with family and focus on what's important," Scott said.
Prior to opening the business, Colonel Scott Bleichwehl's military career took him around the world serving as everything from a field artillery surveyor to an assignment at the Pentagon. He was deployed twice to Iraq and once to Afghanistan in addition to his service at a variety of Army Posts in the United States as well as Germany, Hungary, Croatia, Bosnia, Albania and Kosovo. Scott has a Master's degree in Mass Communications from the University of Florida. Benjamin moved around with his parents growing up before moving to the family's hometown of Oshkosh, Wisconsin. He helped his cousin launch a restaurant business and then moved to Texas to be with his mom during Scott's deployment to Iraq. He met Leilani while working at a local restaurant where they were both promoted to management level.
Opening the business began about a year ago when Scott started planning for his military retirement. Benjamin and Leilani moved to San Antonio from Chicago in anticipation of co-owning the family business. Whether the situation is planned or unexpected, Caring Transitions' services are perfect for busy families, seniors moving in with family or into another safe living situation, or people clearing out the home of a loved one who has passed.
When it comes to moving, the Bleichwehl's know a few things about packing and resettling. In fact, over the course of Scott's three decade career with the military, the family moved 21 times. They've also helped work through a variety of estate sales through Scott's mom's estate sale business.
"The experience and understanding we bring to our clients is truly unique. Moving, downsizing, resettling and clearing out estates is always difficult, but you don't have to do it alone. We are here to help," Benjamin added. "We knew from the beginning that we wanted to work with seniors and families in this area. Caring Transitions is a perfect fit for us and for the region with the influx of retirees."
Caring Transitions is a trusted and highly respected national company leading the way in senior relocation, household liquidations and estate sale management in more than 150 locations across the United States. Caring Transitions is part of the International Franchise Association, the Small Business Association's Franchise Registry, VetFran and Minority Fran. Caring Transitions of San Antonio is bonded and insured.
For additional information about how Caring Transitions of San Antonio can help you or your family, call 210-714-0855, email SBleichwehl(at)CaringTransitions(dot)net or visit http://www.CaringTransitionsSAN.com.
About Caring Transitions
Caring Transitions, founded in 2006, is the first national franchising concept specializing in senior relocation and transition services. With more than 150 locations throughout the United States all owned and operated by Certified Relocation and Transition Specialists, Caring Transitions provides clients with supportive moves, auctions, rightsizing and transitions. This includes expert advice plus a well-executed transition plan beginning with the initial sorting of personal belongings through packing, shipping and selling of items to the final clearing and cleaning of the property. For more information, visit http://www.caringtransitions.com or visit us on Facebook or Twitter.
Caring Transitions is part of Strategic Franchising Systems. It is a member of the International Franchise Association, the Small Business Association's Franchise Registry, VetFran and Minority Fran.