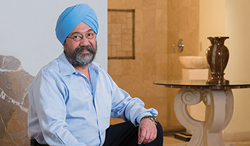 "Attending Golden Gate University was a great experience and I am happy to serve there now." - Dilmohan S. Chadha, owner of IRG
Brisbane, CA (PRWEB) June 01, 2015
Integrated Resources Group is proud to announce that owner Dilmohan Chadha is now on the Board of Golden Gate University. Chadha attended GGU from 1977 to 1979 where he received his master's in accounting.
Golden Gate University is a not-for-profit school that is geared toward professionals. They have many night classes to accommodate all students' needs. The school has a very active board, and diversity is important to them.
When he was a student at GGU, Chadha worked in the library. From the library to the boardroom, he has come a long way since.
"Attending Golden Gate University was a great experience and I am happy to serve there now," said Chadha. "Because of the skills I learned while a student, I have a good accounting background that allows me to manage finances and back of house when I opened my own business," said Chadha.
Chadha is the owner of Integrated Resources Group, which offers the largest in-stock natural stone selection in the San Francisco Bay Area. IRG helps homeowners transform their kitchens, bathrooms and other areas with beautiful stone surfacing.
For more information, contact IRG by calling 415-657-0280 for Brisbane, 925-829-1133 for Dublin or stop by the Brisbane showroom at 275 Valley Drive, Brisbane, CA 94005 or the Dublin showroom at 6800 Sierra Court, Suite A, Dublin, CA 94568.
About the company:
Integrated Resources Group offers the largest selection of natural stone in the San Francisco Bay Area. The family-owned business, started by Dilmohan and Ameeta Chadha, began as a trading company in 1986 dealing in agricultural products, canned food, apparel and natural stone. With a growing reputation for its high-quality natural stone and excellent service, the company relocated the business to a vast warehouse and showroom in Brisbane, where they now carry more than 250 types of stone. The company opened a second showroom and warehouse in Dublin to service East Bay customers. Its products include natural stone, exotics, glass tile, engineered stone and more. For information on the products and services of Integrated Resources Group, the Bay Area's marble and granite company, call 415-657-0280, visit http://marblecompany.com/ or come into either of their two locations.