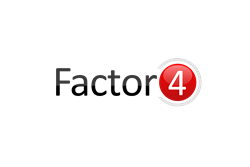 Broomall, PA (PRWEB) May 21, 2015
Factor4, LLC has acquired the book of business containing over 11,000 gift and loyalty customers from SparkBase, Inc. The acquisition also includes a license for SparkBase's proprietary gift card and loyalty program software platform designed for small business end users. Jim Battista, Craig Davis, JT Dominick and Leo Welf, whose combined payments industry expertise is over 60 years, formed Factor4. Dan Battista will serve as President of Factor4 and will be responsible for the day-to-day management of the company.
Jim Battista, who sold leading gift card and loyalty program provider ProfitPoint, Inc. to investors in 2010 and is Co-Founder of MAPP Advisors, a leading boutique Mergers & Acquisitions firm in the payment processing industry, commented: "I'm looking forward to re-entering the gift and loyalty space. We've created a best of breed team to further develop this great asset through our vision of the evolving payments industry and integration of additional technology to create a unique and robust offering to partners and merchants."
Factor4 will partner with Independent Sales Organizations (ISO), credit card processors, POS systems, ecommerce platforms, etc. to offer gift and loyalty solutions to merchants. Dan Battista, former Vice President of Sales at ProfitPoint, Inc. and Co-Founder of Streamline Business Services, LLC said: "I'm excited to use my extensive gift and loyalty experience to deliver the best technology solution for gift card and loyalty programs." For more information, contact Dan Battista at dan(at)factor4gift(dot)com.
About SparkBase
SparkBase, Inc. is a leading gift card and loyalty software platform. SparkBase connects businesses to their customers in real time by capturing shopper behavior at consumer touch points and enabling businesses to reward their customers for shopping, visiting and engaging with their brand. SparkBase partners with more than 100 resellers and technology partners to offer integrated loyalty and gift card solutions to businesses. For more information visit http://www.sparkbase.com.
About Factor4
Factor4, LLC was formed by four payment services experts to provide the premier gift card and loyalty solution. The founders' strength comes from their combined industry expertise and extensive network. Factor4's strength is from its best in class proprietary platform, technology and team. Factor4 serves over 11,000 customers and growing. For more information visit http://www.factor4gift.com.
For media inquiries, contact Aimee DuCasse, Director of Marketing, Factor4 at 610-662-7926 or support(at)factor4gift(dot)com.
###