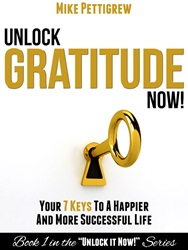 Theory is all well and good, but when you finally understand through your own direct experience that your thoughts and emotions really do affect physical matter, then you will be able to unlock the power to achieve greater happiness and more success
Dublin, Ireland (PRWEB) May 28, 2015
Motivational speaker and Irish author Mike Pettigrew's new book Unlock Gratitude Now! - Your 7 Keys to a Happier and More Successful Life is now available on Amazon Kindle. The book provides a step-by-step framework that promises to help readers get rapid results through an easy to use formula for success.
The main theme of Unlock Gratitude Now! is that people's dominant thoughts and emotions can prevent them from becoming happy and successful. It also explains how it is possible to reprogram the subconscious mind using techniques like positive affirmations so that these self-imposed limitations can be overcome fast.
One of the more unusual aspects of this new book is that the author explains to readers how they can move small physical objects using their mind. He suggests that readers try these experiments for themselves, so that they can discover direct evidence of the power of their thoughts and emotions.
As Pettigrew explains; "Theory is all well and good, but when you discover through your own direct experience that your thoughts and emotions really do affect your surroundings, then you will be able to unlock the power to achieve greater happiness and more success in your life".
Several years ago, the author discovered the power of gratitude during a personal crisis. He had been a self-made millionaire but lost everything through trusting the wrong people and by making bad investments. He even reached the point where he had no money to feed his wife or their baby. However, he describes the experience as being one of the most important events of his life. He managed to turn the situation around because of what he learned about the powers of the mind and emotions and the power of gratitude. This experience now allows him to help others to change their own difficult circumstances.
The book explains how to develop gratitude so that it's possible to transform any situation fast. There are also chapters about the power of belief and a chapter named "Outwitting the Devil Within" where the author explains how to overcome inner negativity and self doubt, which he claims prevents most people from becoming happy and successful. There are also practical exercises for boosting creativity and for become more efficient.
Unlock Gratitude Now! - Your 7 Keys to a Happier and More Successful Life includes a four part video training program to help readers go even further. It includes demonstrations of mind over matter and sets out a framework that can lead to a life of empowerment, success and happiness.
Mike Pettigrew's Courses, Videos and Podcasts empower people using effective strategies like positive affirmations to program the mind for success and greater happiness and are available through his website.