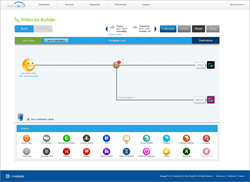 Brands can now be reactive to data in real-time and adjust their campaigns accordingly, ensuring they are marketing to the human behind the device, not just the device itself."
New York, NY (PRWEB) May 19, 2015
Life In Mobile®, today launched linknexus™, a platform that allows brands and marketers to humanize the post-click engagement experience. Without using any programming resources, marketers can use linknexus to drag and drop deeper intelligence into their campaigns, such as weather, past brand participation, time of day and where the consumer came from, in order to tailor the consumer journey on the fly, post-click.
Using linknexus, marketers create scenarios that start with a single link delivered via digital ad, email, text or other marketing touch-points that can lead to different URLs. Each scenario offers a unique value proposition based on the environment in which the consumer exists at the point of engagement and a myriad of other variables. Anyone on a brand marketing team can create these scenarios using the 16 environmental, historical and informational parameters currently built into linknexus:

Weather Conditions
Temperature
Humidity
Time - Local and/or Universal
Calendar Date
Day of Week
Location - Country, City State
Proximity to one or more locations
Website Referrer
Past Referrers
Engagement Frequency
Keywords searched pre-click
New vs. Returning user
Device - Mobile/Tablet/Desktop
Operating System
Random AB
As a campaign progresses, marketers can view the effectiveness of each scenario in real-time and make adjustments to maximize the ROI. The entire development and management of campaigns created using linknexus can be done by anyone on a brand marketing team without any software development knowledge or expertise. linknexus can also be used with embed codes on websites.
"Marketers have spent so much time, energy and money getting consumers to click on an ad but haven't focused on refining the post-click engagement," said Life In Mobile CEO John Lim. "Our platform presents a new and unrealized opportunity in the ad industry by replacing standard AB testing and creating a new sub-industry of marketing: post-engagement conversion optimization. Brands can now be reactive to data in real-time and adjust their campaigns accordingly, ensuring they are marketing to the human behind the device, not just the device itself."
With linknexus, instead of simple AB or rolling AB testing for conversion, brand and agencies can create post-click segments of users and target them with dozens or more possible landing/conversion pages in order to increase the chances of turning that consumer into a customer.
As a Software as a Service platform, linknexus offers a three tiered licensing model, including a free option. For complete price information visit http://www.lifeinmobile.com or contact sales@lifeinmobile.com.
To learn more, visit http://linknex.us or http://lifeinmobile.com.