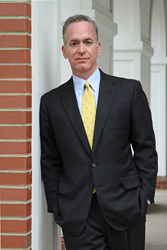 'This is an amazing leadership opportunity at this stage of my career as well as a chance to come home to an institution and city I love.'
ERIE, Pa. (PRWEB) May 27, 2015
The Board of Trustees of Mercyhurst University today announced the appointment of Michael T. Victor, J.D., LL.D., as the 12th president of Mercyhurst University. The vote took place during a special meeting of the board on May 19, 2015.
Currently president of Lake Erie College in Painesville, Ohio, Victor is expected to assume his duties at Mercyhurst on or about Aug. 1. He succeeds Thomas J. Gamble, Ph.D., who is retiring as president after nearly a decade in the role and following a 30-year affiliation with the university.
Throughout his nine-year tenure at Lake Erie College, Victor never lost touch with his Erie roots and maintained his family home here, where he is widely respected as a civic and business leader, attorney, entrepreneur and fundraiser who has risen through the ranks of administrative positions in higher education.
Victor also rose to the top of a crowded field of presidential hopefuls as Mercyhurst's national search – led by a dedicated committee of Mercyhurst trustees, alumni, faculty, an administrator and a student – progressed. The committee considered several highly accomplished leaders with diverse backgrounds from a pool of nearly 100 candidates. The intensive six-month search was headed by trustee co-chairs Richard A. Lanzillo and Joseph G. NeCastro with assistance from R.H. Perry & Associates.
"This is an amazing leadership opportunity at this stage of my career as well as a chance to come home to an institution and city I love," said Victor. "I am deeply honored to be named the 12th president of Mercyhurst University and am excited to engage the entire Mercyhurst community in creating a future that sustains the university's distinct mission in an ever-changing higher education environment."
Overall, the committee sought a candidate with a record of visionary, strategic and impactful leadership, proven capabilities as a fundraiser, a commitment to the liberal arts as well as professional and career-path opportunities and a deep and abiding respect for the Mercy mission.
In making the announcement, Marlene D. Mosco, chair of the Mercyhurst University Board of Trustees, described Victor as a thoughtful and innovative leader who inspires respect from everyone with whom he engages: students, staff, administration, faculty, alumni and friends.
"For many of us at Mercyhurst, Michael is no stranger," Mosco said. "He served with distinction as dean of the Walker School of Business between 2002 and 2006 before being appointed president of Lake Erie College, where he has served admirably for the past nine years. Today, I know he is as excited to return to his hometown as he is to Mercyhurst. We can't help but see this as a win-win for Mercyhurst and for the Erie community."
"The talent of the candidates who came forward during the search is a reflection of Mercyhurst's outstanding reputation for quality education and service to students," said trustee and search committee co-chair Richard A. Lanzillo. "As president of Lake Erie College, Michael Victor has demonstrated the pursuit of excellence at every level of the institution, making a distinctive mark on academic programs, athletic programs, fundraising initiatives and community engagement. His experience, energy and optimism are a fitting match for our community."
While at Lake Erie College, Victor doubled enrollment, raised more than $40 million for the institution, and launched 12 new academic programs, including a master of physician assistant studies in partnership with University Hospitals and an MBA graduate program. In addition, he grew the athletics program from 11 to 19 varsity sports, including a new football team, and made the transition from NCAA Division III to Division II.
He was named Painesville Area Chamber of Commerce Citizen of the Year in 2012 and Leadership Lake County Leader of the Year in 2011. He holds positions on numerous corporate and civic boards, among them the United Way; Energy, Inc. and Holden Arboretum, and is a trustee of the Ohio Foundation of Independent Colleges & Universities. He is the former CEO of Pyramid Industries, who began his professional career as an attorney in the corporate law department of MacDonald, Illig, Jones & Britton in Erie.
Victor takes the helm of a university that was founded in Erie, Pennsylvania, in 1926 by the Sisters of Mercy and:

Enrolls roughly 4,000 students and offers more than 50 undergraduate majors, nearly 70 concentrations and pre-professional tracks, nine graduate programs and 30 associate degree programs.
Is ranked in the top 10 of 41 Pennsylvania colleges and universities in its U.S.News & World Report cohort of "Best Regional Colleges in the North," and is tied for 11th among the more than 180 colleges and universities in its region for "Most International Students."
Has its main campus in Erie, Pennsylvania, and satellite campuses in nearby North East and Corry, Pennsylvania, as well as an urban education initiative at the Booker T. Washington Center in Erie's inner city and an international center in Dungarvan, Ireland.
Has established premier programs of international acclaim in the areas of intelligence studies, archaeology, forensic anthropology, dance and public health.
Is home to The Thomas J. and Michele Ridge Collection, an archive of the Ridges' long and rich history of public service, and the Helen Boyle Memorial Archive in honor of Mercyhurst alumna and peace and justice advocate Joan D. Chittister, OSB.
Offers 24 varsity sports at the NCAA D-I and D-II levels.
Is on the threshold of celebrating its 90-year anniversary.
In welcoming Victor to the university, trustee and search committee co-chair Joseph G. NeCastro said, "Michael's poise, ease, intelligence and passion for both Mercyhurst and Erie, together with his record of success across many pursuits and his commitment to bringing the Mercyhurst University story to the wider public, makes him an inspired choice for this moment in our history."
Victor, a summa cum laude graduate of St. Vincent College, earned both his MBA and juris doctorate from Duquesne University School of Law. He is married to Jean Craige Pepper, who currently serves as a commissioner of the Pennsylvania Historical & Museum Commission. They are parents of four grown children.