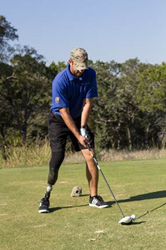 Fort Worth, TX (PRWEB) May 18, 2015
Howell Instruments is sponsoring a talented amateur golfer and wounded hero, SFC (Ret.) John Faulkenberry to play with professionals and celebrities in the Crowne Plaza Colonial Invitational Pro-Am Tournament Wednesday, May 20 at Colonial Country Club in Fort Worth.
Talented amateur golfer John Faulkenberry bravely served his country over nearly a decade with multiple deployments. Serving with the 173rd Airborne Brigade Combat Team in Afghanistan, his unit was ambushed outside a small village in the Korengal Valley. He was shot multiple times in the right upper thigh, shattering part of his femur, severing the sciatic nerve and lacerating the femoral artery. He subsequently underwent a painful limb salvage over three years, ultimately leading to a below the knee amputation. John used golf during his recovery as a form of rehabilitation and return to normalcy. With Howell's sponsorship, he will get a once in a lifetime opportunity as an amateur golfer to play in the Pro-Am alongside the PGA's best.
Howell CEO, Arthur "Shep" Brown, says, "I retired from the military before coming to work for Howell, and given that our company has been in business over 60 years with all branches of the military, I saw it as an excellent opportunity for us to give back. Our founder, John Howell, was a decorated WWII pilot, and avid amateur golfer, and we've participated the Colonial Pro-Am since the 1960's. We are extremely proud and honored that John Faulkenberry will represent Howell this year, and our heart-felt thanks go out to all those who have served and sacrificed, and especially those still defending our freedom."