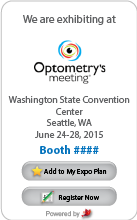 Columbia, MD (PRWEB) May 19, 2015
a2z, Inc., the Maryland-based leading event management solution company, is pleased to announce that the American Optometric Association (AOA) is offering the ChirpE eBooth Promotion Widget to exhibitors at their upcoming Optometry's Meeting Conference in Seattle, WA. The eBooth Promotion Widget provides exhibitors a unique opportunity to engage with potential buyers before the show begins by showcasing their participation in the event to their own web visitors.
AOA's Optometry's Meeting is the premier event for optometrists, optometry students, and optometric staff. Held in Seattle at the Washington State Convention Center, this four day conference and expo will offer optometry professionals the chance to grow in their profession through continuing education, cutting-edge presentations, and networking with the best and brightest minds in the industry.
The AOA ChirpE eBooth Promotion Widget is a dynamic plug-and-play tool that does not require any coding or design skills to be published on an exhibitor's website, blog or e-newsletter. Once an exhibitor embeds the widget into their personal website, web visitors can immediately access their updated eBooth information including company profile, product offerings, booth location on the Optometry's Meeting show floor, and much more with the single click of the button.
Additionally, attendees can add exhibitors as favorites to their personalized planners and register for the event with a simple click, allowing exhibitors to grow their prospective audience before the show begins.
On average, exhibitors using the eBooth Promotion Widget receive an average of 5-6 genuine show leads in the build up to the event. Once a connection is made online, there is a greater liklihood that the interaction will carry on at the live event. By utilizing the eBooth Promotion Widget, exhibitors are able to take an active role in increasing their ROI and acquiring potential buyer leads long before the show begins.
About a2z
a2z, Inc. provides powerful web-based event management tools that grow your show by increasing and accelerating booth sales, helping boost revenue, and enhancing engagement and value for everyone. a2z, Inc. powers more than 850 leading events every year. Our clients benefit from increased connectivity with their audience via an improved website for their attendees and exhibitors and both web-based and native mobile app solutions. a2z offers three platforms as one integrated solution: Expo & Conference Management, Networking & Lead Management, and ChirpE Mobile- which includes our web-based and native mobile apps for smart phone and tablet device.
About American Optometric Association
The American Optometric Association represents approximately 39,000 optometry professionals including doctors of optometry, students, and paraoptometric assistants and technicians. Together, these members of the AOA work to provide the public with quality vision and eye care by setting professional standards of eye care, forming lobbies on behalf of government organizations, and providing research and education leadership.