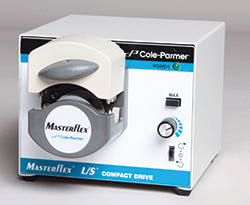 Vernon Hills, IL (PRWEB) May 18, 2015
With a portfolio of brands offering process efficiencies, Cole-Parmer will present its latest innovations at ACHEMA 2015 in Frankfurt, Germany, June 15–19. Displayed at booth A59 in Hall 4.1 will be:
--A variety of Masterflex® peristaltic pumps, configurable to customers' needs. With flow ranges from 0.0006 mL/min to 42 L/min and 22 tubing formulations to choose from, these pump systems offer a solution for nearly every application.
--The always reliable Oakton® line of water quality meters, which now features the new Waterproof DO 450 and pH/DO 450 meters. With no need to replace the membrane or electrolyte and no incoming flow requirement, these optical meters are an easy, time-saving option. The new Waterproof pH 150 and CON 150 meters deliver competitive functionality at a budget-friendly price.
--A selection of Digi-Sense® temperature meters—some precalibrated—designed for accuracy and maximum functionality.
--Environmental Express® technologies to help customers save time and costs in environmental testing for metals, oil and grease, and hazardous waste. The HotBlock® digestion system and disposable BOD bottles are just two of these convenient items.
Stop by the booth to see these products. For more information, call 1-847-549-7600 or go to ColeParmer.com/21420.
Cole-Parmer has been a leading global source of laboratory and industrial fluid handling products, instrumentation, equipment, and supplies since 1955. Our product lines, including popular brand names such as Masterflex®, Oakton®, Digi-Sense™, Environmental Express®, and more, are sold through company-owned customer channel outlets and a strong network of international dealers. We also feature an ISO-17025-accredited metrology lab for instrument calibration and repair. Cole-Parmer responds with excellence to customer needs, and offers application expertise and technical support. For more information, contact Cole-Parmer, 625 East Bunker Court, Vernon Hills, IL 60061. In the US, call 800-323-4340. International customers, call 1-847-549-7600. Visit us at ColeParmer.com.