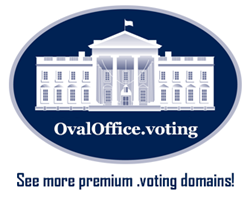 "We are always looking to bring quality inventory to our customers and we feel that .voting domains present some great opportunities." - Jonathan Tenenbaum, General Manager, NameJet
Kirkland, WA. USA (PRWEB) May 18, 2015
The .voting top level domain (TLD) is an ideal namespace to facilitate voting, surveys, ratings and discussions. NameJet and the .voting Registry are offering 40 hand-picked premium .voting names at auction including ovaloffice.voting, obamacare.voting, westwing.voting and issue.voting. With the 2016 elections on the horizon, and the idea of "voting" on everyone's' mind, this is a great time to secure a premium .voting domain.
"We are always looking to bring quality inventory to our customers and we feel that .voting domains present some great opportunities. People need to have their voice heard, and .voting domains, along with the websites that can be established with them, truly promote and facilitate this idea." – Jonathan Tenenbaum, General Manager, NameJet.
These premium names are available to backorder now at NameJet with no reserves. The three day private auctions are scheduled to begin on Friday, June 5, 2015.
Click here to see the complete list of .voting domains.
About NameJet
NameJet, LLC, a joint venture between eNom, Inc., a subsidiary of Rightside (NASDAQ: NAME) and Network Solutions, LLC, a subsidiary Web.com (NASDAQ: WWWW), is the world's leading domain name auction platform. Launched in 2007, NameJet has since processed more than 200,000 domain auctions on its award-winning and easy-to-use website. With an exclusive inventory of expired and deleted domains from several of the largest registrars, plus top-quality premium name listings and drop-catching services, NameJet is the industry's most trusted auction and aftermarket services provider.