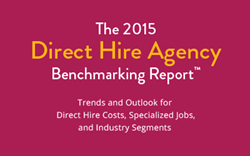 The data in this report shows that the direct hire agency market has heated up in the last few years, but is stabilizing. --Mike Hard, CEO of BountyJobs
New York (PRWEB) May 19, 2015
The 2015 Direct Hire Agency Benchmarking Report™, released today by BountyJobs, reveals the pendulum is swinging in favor of highly sought-after job candidates in the U.S., driving up salaries for premium jobs, forcing U.S. employers to elevate their game when it comes to talent acquisition.
Direct hire agencies are paid a fee as a portion of a successfully placed job candidate's salary. The 2015 Direct Hire Agency Benchmarking Report™ shows that fees being paid to acquire key talent rose 6.3 percent in 2014. During the same time period, fees paid as a portion of direct hire salaries are becoming stable at about 21 percent.
"The data in this report shows that the direct hire agency market has heated up in the last few years, but is stabilizing," said Mike Hard, CEO of BountyJobs. "But we're also seeing higher salaries for many key job categories and industries, meaning companies are competing more than ever for scarce talent."
The report also reveals that premium fees — those paid at or above 25 percent of a direct hire candidate's salary — are increasing. Competition for certain jobs categories and jobs in certain industries (such as bio-technology and pharmaceuticals) is extremely fierce.
BountyJobs' report is the first of its kind to offer a glimpse into how much employers are willing to pay direct hire agencies (sometimes referred to as headhunters) for in demand candidates to fill vacant jobs that are:

Critical to business operations and success
Typically carry a salary over $100,000
Specialized by skill set or industry
Scarce and highly sought after by competing organizations
Other employment reports, such as those distributed by the U.S. Bureau of Labor Statistics or ADP, fail to provide details into the direct hire agency jobs market. This report, which uses raw, transactional data from more than 35,000 job placements over a 5-year period, addresses activity considered the high end of hiring activity.
About the data:

Sample size is substantial, covering 35,000 jobs filled over the past five years.
The breadth of agencies tracked in this report represents a significant portion of a very fragmented marketplace, ranging from global firms with hundreds of agents in several industries, to boutique firms with one person focusing on one niche. According to Staffing Industry Associates, no direct hire agency has more than 4 percent of the market, and data from publicly traded companies gives only a fraction of the perspective into the market needed. This report solves for the lack of aggregated direct hire agency data.
The diversity of companies, and the roles they fill through agencies, is also substantial. Companies are represented from all four regions of the U.S. Companies with 99 employees or less are the smallest portion of the survey (3 percent of jobs filled), while companies with 100-4,999 represent 32 percent of jobs filled and companies with 5,000 employees representing 65 percent of jobs filled. The latter category is broad in itself, ranging from Fortune 100 global corporations to regional U.S.-based firms.
About BountyJobs
BountyJobs is a direct hire agency recruiting marketplace that simplifies the entire process between companies and direct hire agencies, helping companies hire better candidates, faster. BountyJobs uses the only data-driven VMS that gives HR teams complete control and clarity over their agency process. Through one contract, one portal, and unrivaled benchmarking data, BountyJobs partners with companies to help them simplify, analyze, and then deliver unmatched velocity and results in landing candidates from direct hire agencies.
BountyJobs is based in New York and can be found online at bountyjobs.com.