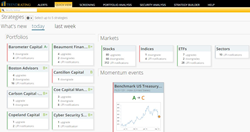 This new functionality makes it easier and faster for our customers to stay on top of momentum events every day. Momentum ratings are now better organized and displayed to make sure that asset managers are promptly alerted about new trends and reversals
London and New York (PRWEB) May 19, 2015
Trendrating, a provider of innovative momentum factor analytics for global investment managers, announced today the general release of version 1.1 of its Momentum Analytics Platform. This recent version includes a new alerts page which highlights and organizes momentum events across markets. The right side of the page graphically displays upgrades and downgrades separated by country, sector, and individual stocks. This enables immediate and efficient spotting of momentum events, making the information more accessible and actionable.
"At Trendrating we are committed to relentless innovation and improvements," said Rocco Pellegrinelli, Founder and CEO of Trendrating. "This new functionality makes it easier and faster for our customers to stay on top of momentum events every day. Momentum ratings upgrades and downgrades are now better organized and displayed to make sure that asset managers are promptly alerted about new trends and reversals. As the adoption of Trendrating continues to grow, we will continue to react quickly to our customer's suggestions."
The Trendrating Momentum Analytics Platform provides portfolio managers and market strategists with web-based tools to measure momentum objectively and systematically to achieve higher returns through better discipline and control. The Trendrating Momentum Model captures trends lasting from a few months to a few years while filtering out market noise to increase stability. Modules included in the current version include the Alerts Page, Portfolio Analyzer, Portfolio Optimizer, Screener, Strategy Builder and Index Builder. All parameters of strategy and index building are user defined. Portfolio managers receive immediate feedback on Trendrating results including the average historical accuracy across our letter ratings (A, B, C, D). The self-adjusting model has proven effective at capturing meaningful trends with 73-81% accuracy.
About Trendrating
Trendrating empowers professional investors with the financial industry's most innovative momentum investing technology to improve their portfolio diversification and overall performance. We provide our intelligent performance enhancement technology to over 100 institutional fund managers in Europe, the U.S. and Asia. Our best in class momentum analytics are used by mutual funds, hedge funds, institutional asset managers, pension funds, banks, wealth advisors and family offices. With offices in London, New York, and Lugano, Trendrating is funded by Angelic Ventures.