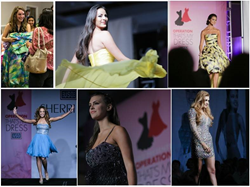 JTV is honored and humbled to provide complimentary jewelry for the Operation: That's My Dress! Beauty Bar.
KNOXVILLE, Tenn. (PRWEB) May 20, 2015
Jewelry Television (JTV) and United Service Organizations (USO) are teaming up to deliver a unique fashion and beauty experience to military families during Operation: That's My Dress! Fleet Week NY 2015. The annual event, which launched in 2012, is one of the USO's premier military appreciation programs that honors military members and their families for their courage and sacrifice.
"Women experience unique challenges related to military life and culture with frequent moves, deployments and adapting to new homes and communities," said Ray Kennedy, VP, Programs and Services for the USO of Metropolitan New York. "We want to help service members look their best on occasions when a uniform is not necessary, while also helping spouses accompanying their partners to social functions feel confident and beautiful."
The event is expected to draw hundreds of participants. Each woman will have the opportunity to select a brand new gown or cocktail dress, accessories to complement her selection, as well as cosmetics, hair and beauty products chosen specifically for her. Miss USA title holders and contestants, professional models, female business leaders and celebrity stylists will be on hand to serve as personal shopping assistants.
"When we heard that Operation: That's My Dress! has already touched the lives of more than 6,000 military families, we knew we wanted to get involved," said Jill Johnson, VP of marketing for JTV. "JTV is honored and humbled to provide complimentary jewelry for the Operation: That's My Dress! Beauty Bar. We understand the power of jewelry to make women feel well dressed, self-assured and uplifted. We're proud to support our military families."
Operation: That's My Dress! will take place on Sunday, May 24 at Center548 in Manhattan. The USO will present two events: one for visiting Fleet Week female service members followed by an event for area female service members and spouses.
"We're so grateful to JTV for their support," said Kennedy. "The Operation: That's My Dress! experience is just one of the many ways the USO makes every moment count for America's troops and their families. We simply couldn't do it without the support of our sponsors."
About Jewelry Television® (JTV)
Jewelry Television® (JTV) is one of the largest multichannel retailers of jewelry and gemstones in the U.S. appealing to fashion-conscious women, jewelry-making enthusiasts and private collectors. The privately-held shopping network broadcasts high definition programing, 24 hours a day, seven days a week, to more than 80 million U.S. households. Committed to consumer education, the network employs numerous Graduate Gemologists and Accredited Jewelry Professionals. JTV.com offers the most comprehensive jewelry and gemstone Learning Library on the Internet, and is the third largest jewelry website according to Internet Retailer's Top 500 Guide for 2012.
About the USO
The USO lifts the spirits of America's troops and their families millions of times each year at hundreds of places worldwide. We provide a touch of home through centers at airports and military bases in the U.S. and abroad, top quality entertainment and innovative programs and services. We also provide critical support to those who need us most, including forward-deployed troops, military families, wounded warriors, troops in transition and families of the fallen. The USO is a private, non-profit organization, not a government agency. Our programs and services are made possible by the American people, support of our corporate partners and the dedication of our volunteers and staff.
# # #