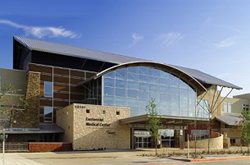 Frisco, Texas (PRWEB) May 20, 2015
Frisco Spine is pleased to announce the opening of two new offices in the cities of Denton and Rockwall. These two new facilities allow Frisco Spine's team of neck and back pain specialists to help even more patients located in the greater Dallas area. The doctors at Frisco Spine offer state-of-the-art surgical and non-surgical care, as well as sound medical advice regarding spinal health concerns.
About Frisco Spine's Denton Office
Frisco Spine's Denton office is located in Denton Regional Medical Center, a 208-bed, full-service hospital that offers a wide range of healthcare services, including emergency medical care, heart surgery and cardiovascular medicine, occupational medicine, and a comprehensive neurosurgery program.
Frisco Spine has been working on-call with Denton Regional Medical Center for some time, and has developed a strong base of patients in the area as a result. Having an official Frisco Spine location at Denton Regional Medical Center means greater convenience for existing neck and back pain patients, and it also allows others in the area to meet with skilled spinal health specialists.
Dr. Gary Dennis, Dr. Michael Turner and Dr. Paul Salinas are on-site in the Denton office on Tuesdays and Fridays, alternating days.
About Frisco Spine's Rockwall Office
Frisco Spine's Rockwall office is located in Lake Pointe Medical Center in Rowlett, TX, which is just across the water from Rockwall along SH 66. Lake Pointe Medical Center is a 112-bed, acute care hospital that provides a full spectrum of medical services, including an intensive care unit, a cancer center, and a bariatric surgery program.
Dr. Ludwig Orozco is located on-campus at Lake Pointe Medical Center. Dr. Orozco joined Frisco Spine in October 2014 and has helped a number of patients with brain and spinal tumors, cerebrovascular disorders, and those who have experienced various forms of brain and spinal cord trauma. Bilingual and originally from Guatemala, Dr. Orozco trained in Neurology in Buffalo, NY and moved to Mississippi to finish a Neurosurgical Residency and a fellowship in Endovascular Neurosurgery at the University of Mississippi Medical Center.
Meeting the Needs of Patients Throughout Texas
Adding offices to communities located east and west of its original location allows the Frisco Spine team to help countless individuals who suffer from various disorders of the neck and back. In addition to the new Denton and Rockwall locations, Frisco Spine currently has offices in Frisco, Carrollton, and Plano.
A Continued Focus on Expansion and Excellent Care
The team at Frisco Spine has additional plans to expand in 2015. The doctors hope to add two new locations some time during the summer and fall. As with the recent office additions, the further expansion will allow even more patients to get the help and medical attention that they need.
Speak to the Neck and Back Pain Specialists of Frisco Spine
For more information on the new office locations and various services available, interested parties are encouraged to contact the neck and back pain specialists of Frisco Spine. The offices in Denton and Rockwall can be contacted directly by using the contact information provided below.
Denton Office
3537 Interstate 35E, Suite 220
Denton, TX 76210
(972) 377-9200
Rockwall Office
6701 Heritage Pkwy, Suite 165
Rockwall, TX 75087
(972) 487-8100
Originally posted by Frisco Spine