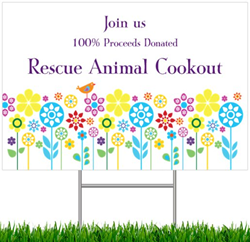 It's heartwarming to work in a like-minded office park saving unwanted dogs and cats.
Marietta, GA (PRWEB) May 26, 2015
The professionals from Marietta Vet Clinic and Verde Pointe Dental Associates are at it again, helping local rescue pets with a parking lot cookout on Thursday, June 25, 2015. Local dentists, Kirk Kimmerling DDS, Suzanna Aguilera DMD and Garrick McGrath DMD have joined forces with veterinarian, Julian Peckich DVM donating 100% of proceeds from the extravaganza.
Tents, grills and guests are expected to fill the parking lot to help save unwanted, local animals. Doctors and staff from both practices are working towards lowering the number of intake dogs and cats at animal control by funding adoptions, well care and importantly, spay and neuter efforts. Both believe the only solution to the overwhelming problem is to have less animals born. The offices are asking the office park, community, and local animal lovers to stop by to enjoy the event.
"It's heartwarming to work in a like-minded office park saving unwanted dogs and cats," says Dr. Peckich.
The proceeds will be given to the Tigg Neuter Project, working under a local non-profit 501(c)3 dedicated to spay and neuter efforts.
Kirk Kimmerling DDS and Suzanna Aguilera, DMD are Marietta cosmetic dentists and Marietta emergency dentists that are paving the way for the future of dentistry. The office is technologically sophisticated in not only equipment and procedures, but also in the development of dental materials via Kimmerling Holdings Group, LLC and fiteBac SkinCare, LLC, Dr. Kimmerling's biotechnology firms. The Marietta dentists invite new patients to meet their exceptional staff and experience and benefit from state of the art dental care. The office offers a broad range of services from teeth cleaning, teeth whitening, dental whitening, dental veneers and dental implants, dental bridges, dental crowns, dental fillings, tooth implants, dental veneers, toothaches and root canals.
Marietta Vet Clinic and veterinarian, Julian Peckich DVM, are pleased to welcome dogs and cats to the pet clinic, dog clinic and cat clinic. Dr. Peckich provides veterinary services for the Marietta, Kennesaw, Dallas, Acworth, and Powder Springs, GA. It would be their great pleasure to welcome dogs and cats to their pet family for pet vaccinations, cat vaccinations, dog vaccinations, sick animal relief, laboratory testing, pet teeth cleaning, veterinary dentistry, wellness exams, spay and neuter clinic and mobile veterinary services. Affordable veterinarian at your service.