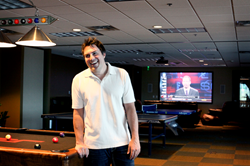 It's already a leader in the home and personal electronics and appliances market, and experts predict a $3 trillion Internet of Things industry by 2020
Scottsdale, AZ (PRWEB) May 25, 2015
Samsung continues its developments in the Internet of Things, according to a recent article in the USA Today. According to the article, Young Sohn, president and chief strategy officer for Samsung, unveiled Artik, its Internet of Things chip technology, this week. Jason Hope, futurist from Arizona, believes this indicates Samsung's dedication to making the Internet of Things a major part of its offerings.
According to Jon Swartz's May 14 article entitled "Samsung takes another step into Internet of Things," the announcement of Artik's launch took place at the Internet of Things World Conference. Artik is a chip that will work with Samsung appliances and products using Samsung's chips. At the presentation, Sohn as joined by makers of products like smart shoes, IoT programming devices and farming-data sensors.
"Samsung has a lofty goal," says Jason Hope. "They have a goal of having 90 percent of their devices connected by 2017. Artik will help make this possible."
"Of course, if Samsung can reach its goal," Hope continued, it will be well positioned to take a huge chunk of the Internet of Things marketplace. It's already a leader in the home and personal electronics and appliances market, and experts predict a $3 trillion Internet of Things industry by 2020. The potential profits for Samsung are tremendous."
Samsung's Sohn called the chips "powerful building blocks" to allow Samsung devices and appliances to be connected. They are secure and use little power. He discussed them in a 45-minute keynote presentation at the conference.
If Artik delivers as advertised, it will help Samsung become a key player in the Internet of Things. The company currently makes about 1 million products per day, shipping over 600 million devices every year, and the new chip could help the majority of these to be connected devices.
About Jason Hope
Jason Hope watches the development of the Internet of Things with great interest from his home in Scottsdale. He has created a successful business as an entrepreneur and futurist, and uses his influence to support research into changes that will benefit the future for people around the globe. Learn more about his work at http://www.jasonhope.com.