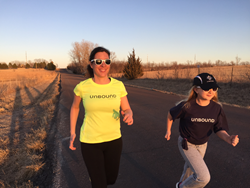 I run because I want to stay healthy for my kids.
Kansas City, Kan. (PRWEB) May 19, 2015
The Big 4-0. For many, turning 40 inspires something big. Christie Appelhanz isn't going to be taking up skydiving or booking a luxurious cruise. She is lacing up her running shoes and racing for charity.
Christie Appelhanz from Topeka, Kan. will be running Kansas City's Hospital Hill Run the day before her 40th birthday to support kids around the world through Unbound, an international humanitarian organization and the largest nonprofit in Kansas.
This year for her birthday, Christie is asking her friends and family to donate $40 to Unbound instead of giving her gifts.
"I run because I want to stay healthy for my kids and to hang out with my 9-year-old, Kate," says Appelhanz. "I can also run to raise money to help children in poverty."
The Appelhanz family sponsors two children in Honduras through Unbound. Honduras is the second poorest country in Central America, where one in four children suffers from chronic malnutrition.
"I want to teach my kids about the rest of the world in a personal way," says Appelhanz. "I recently asked my 7-year-old, Wes, what he knew about Honduras and he said 'It's extremely hot in Honduras, there are jungles and there's a person just like me.' My kids are learning exactly what I hoped they would."
Appelhanz is a member of the Unbound Trailblazers team and raises funds to support various Unbound programs. She will be running the Hospital Hill 5K on June 5.
Hospital Hill Run is one of the oldest half marathons in the country and has grown from 99 runners in the first race to more than 9, 000 for 2015. Runner's World Magazine chose the Hospital Hill Run as the 11th best half marathon in the U.S.
Unbound is one of four charity partners for the 42nd Annual Hospital Hill Run with more than 90 runners signed up as Unbound Trailblazers.
Hospital Hill Run will take place on June 5 at 7 p.m. for the 5K, June 6 at 7 a.m. for the 10K and Half Marathon at Crown Center Plaza, 2405 Grand Blvd., Kansas City, MO 64108.
"Fighting poverty can be intimidating," says Appelhanz. "With Unbound, I feel like I can make a difference."
Unbound is the largest nonprofit organization in Kansas with more than $120 million in annual revenue. Unbound works side by side with people of diverse faiths in 20 countries, bringing people together to challenge poverty in new and innovative ways.
Unbound distributes direct aid as quickly and efficiently as possible to people who need it. 92.5 percent of Unbound's expenses go toward program support.
Learn more about Unbound at http://www.unbound.org.
###