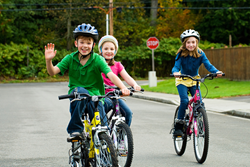 "As a personal injury firm, we see the devastating effects that occur when kids don't wear bicycle helmets. " - Paul B. Harding, Managing Partner at Martin, Harding & Mazzotti, LLP
Albany, Schenectady, Troy, Saratoga Springs, Amsterdam and Plattsburgh, NY, Springfield, M (PRWEB) May 20, 2015
The law firm of Martin, Harding & Mazzotti, LLP® today announced that the firm has given away over 7,500 helmets during the Bike Helmet Giveaway Program from May through the summer months over the past 14 years. The program, which kicks off in May during "Bicycle Safety Awareness Month", offers toddlers to 14-year-olds bike helmets – correctly fitted by volunteer employees from the firm – at various planned events throughout the Capital Region and beyond.
According to a report by the US Department of Transportation, approximately 13% of bicycle deaths, for those under the age of 14, are caused by the absence of a bicycle helmet. Programs like the Bike Helmet Giveaway Program can have long-standing effects on the safety of children. The Children's Safety Network report "Bicycle Helmets save Medical Costs for Children" states that 85 percent of kids who own bicycle helmets wear them. The usage rate does not vary by income, which is very encouraging.
The Bike Helmet Giveaway Program has been running for more than 14 years in an effort to help combat the incidence of bicycle deaths in children. "As a personal injury firm, Martin, Harding & Mazzotti sees first-hand the devastating effects that occur when kids don't wear helmets. Because we also understand that some children do not have access to helmets, we are proud to be part of a solution," says the firm's Managing Partner, Paul B. Harding. Along with local police departments who are also acutely aware of these statistics, the firm has been proactive in running this highly successful program.
As of May 2nd, the firm, along with the Albany Police Athletic League (PALS), put on a "Bike Rodeo" on Henry Johnson Blvd in Albany, NY where 150 bike helmets were given away to children in need. An additional 300 kids bike helmets have been allocated to upcoming Albany PALS bike helmet events. Sgt. (Ret.) Lenny Ricchiuti, PAL's Executive Director, stated, "Our Bike Rodeo event is education by practice. The event teach[es] young bicyclists the real world skills they need to ride their bicycles safely. Our events would not be possible were it not for the support from partners and in particular Martin, Harding, & Mazzotti, LLP."
Upcoming free kids bike helmet events are as follows:
MHM teams up with the Albany Police Athletic League
Saturday, May 30th from 10 am - 12:30 pm
Albany Jewish Community Center in Albany, NY
MHM teams up with the Ballston Spa Police Department
Friday, May 22nd from 5 pm - 9 pm
Albany-Saratoga Speedway in Malta, NY
MHM teams up with the Clinton Co. DA Andrew Wylie for Kids' Day
Saturday, August 1st from 9 am - 2 pm
Durkee Street Parking Lot in Plattsburgh, NY
For more information on the "Free Bike Helmet Giveaway Program" for kids, email clark(dot)supley(at)1800law1010(dot)com.
About Martin, Harding and Mazzotti, LLP®
Martin, Harding & Mazzotti, LLP® is a law firm whose practice is limited to protecting the rights of those wrongfully injured as a result of negligence. If you or someone you know has been injured, call us toll-free at 1.800.LAW.1010 (1-800-529-1010). Based in Albany, NY, the law firm has a storied history of actively engaging their community, including The Legal Project, an organization in which Paul Harding has taken an active role. The Legal Project is a private, non-profit organization, which provides a variety of free and low-cost legal services to the working poor, victims of domestic violence and other underserved individuals in the Capital Region.