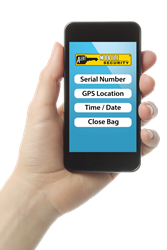 The new Alert Mobile Security now allows anyone using an Alert Security Bag to track it with their smart phone.
Easton, PA (PRWEB) May 27, 2015
Packaging Horizons Corporation is pleased to announce their newest innovation in tamper evident security bag technology – Alert Mobile Security. Alert Security Bags have been used for many years to provide security during the transfer of a wide variety of valuables. These valuables include police evidence, forensic samples, medical drugs, confidential documents and many other items that require secure containment while being transferred from one location to another. The new Alert Mobile Security now allows anyone using an Alert Security Bag to track it with their smart phone.
In addition to the need for physical security, most valuables are tracked by a "chain of custody" – a complete record of the identity of each person who had possession and each transfer of the package to another location. It's obvious that this type of information is extremely important in applications like police and forensic evidence where guilt or innocence is link to the proof of authenticity of the samples.
Here's how Alert Mobile Security works. An app is downloaded to any smart phone running the Android operating system. A chain of custody record is created by touching the smart phone to the NFC chip on the Alert Security Bag. The phone then identifies the user, records the time, date and GPS location. The user can even attach photos of the transaction! This data is then transferred to cloud-based data storage where it is securely held. The records can never be altered but the information can be viewed by authorized users.
Tamper evident security bags have seen many improvements over the past two decades but until now, the chain of custody process remained a human clerical function with all of the potential flaws associated with human record keeping. This includes errors like incorrect dates and times, incomplete information due to oversight and even fraudulent information recorded to cover up the mishandling of a security bag. Packaging Horizons recognized that an improvement in the chain of custody process would be a major step forward in the overall security of the system.
Over a year ago, Packaging Horizons began its collaboration with Ginstr, a German software developer to take the chain of custody process from human record keeping to a digital cloud-based system. Near Field Communication (NFC) technology was selected as the best available and most secure approach. This is the same secure identification technology that is used in applications like smart credit cards, passports and even touch entry door locks.
"Alert Mobile Security is the best available digital technology for secure documentation of chain of custody transactions," says John Gregor, Vice President/General Manager of Alert Security Products. Visit http://www.alertsecurityproducts.com for details about this new product and download the app for free at the Google Play store. You can also learn more about Alert Security Bags by watching this YouTube video: https://www.youtube.com/watch?v=Mi5jZaMwLOw