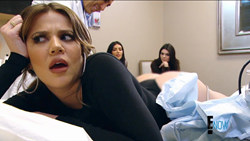 Los Angeles, CA (PRWEB) May 18, 2015
On May 10, 2015, Dr. Simon Ourian of Epione Beverly Hills appeared on Keeping Up with the Kardashians. During the episode, sisters Kim Kardashian and Kendall Jenner looked on as Dr. Ourian performed stretch mark and cellulite removal treatments on Khloe Kardashian.
"As Khloe remarks in the video, she is under constant press scrutiny and it's completely understandable that she feels tremendous pressure to look a certain way," says Dr. Simon Ourian, Medical Director of Epione Beverly Hills. "Celebrities are given no margin for error; they're expected to look perfect all the time."
The episode of Keeping Up with the Kardashians opens with footage of Khloe Kardashian and Kendall Jenner exiting their Rolls Royce and entering the back door of Epione's Beverly Hills facility. Khloe explains that she'll be getting treatments for stretchmarks and cellulite on her buttocks. Kim Kardashian then walks into the treatment room and the three sisters greet Dr. Ourian. Dr. Ourian proceeds with the treatment on Khloe as Kim and Kendall look on while enjoying tea and refreshments.
"I believe that the best results can be obtained by combining multiple treatment modalities," says Dr. Ourian. "In this case, I used complementary treatments that addressed Khloe's concerns on the skin's surface and sub-dermally."
Dr. Ourian has been a pioneer in laser technology and non-invasive aesthetic procedures including UltraShape, VelaShape, Restylane, Juvéderm, Radiesse, Sculptra, and CoolSculpting. These treatments are used for the correction or reversal of a variety of conditions such as acne, acne scars, skin discoloration, wrinkles, unwanted fat, stretch marks, varicose veins, cellulite, and others. More information about stretch mark remova l can be found on Epione's website.