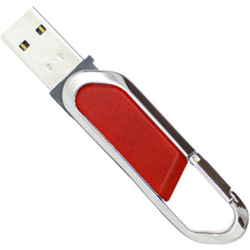 Our customers want the biggest bang for their promotional buck; I believe that the Carabiner USB flash drive delivers on that need
Riverwoods, Illinois (PRWEB) May 20, 2015
Bowtie Promotions' Carabiner Personalized USB flash drive combines the functionality of three into one. The product has customized color inserts which may be personalized with full-color or silk-screen printing. The color of the inserts may be customized based on preference. Once personalization is complete, Bowtie Promotions' 10-day fast-track branding service ships the finished product in 10 business days or less.
Combining the functionality of a carabiner with a spring loaded gate is a novel solution to a growing problem of having to purchase two separate items – a USB flash drive and a key-ring. The solution of the carabiner goes further over the key-ring by simplifying attachments with a snap, and without the need to pray open the loops of the metal key-ring. The folding USB connector of the USB Carabiner is a feature that helps protect the drive, and eliminates the need for a cap.
"We are excited to introduce a product that combines three in one – A personalized Carabiner, USB flash drive, and a folding connector. Product versatility and usefulness is what drives customer product loyalty; which in turn allows wider and more sustainable visibility of promotional branding. Our customers want the biggest bang for their promotional buck; I believe that the Carabiner USB flash drive delivers on that need", stated Dennis Lanski, President with Bowtie Promotions.
Visit http://www.BowtiePromotions.com to obtain more information. Telephone inquiries may be directed to Dennis Lanski at 877-853-1573
Bowtie Promotions is a registered trademark of Bowtie Promotions Incorporated.