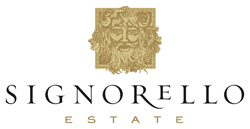 First planted in the 1970s and producing Napa Valley estate wines since 1985, Signorello Estate is based on the concept of the Great Wine Estate
Napa, California (PRWEB) May 19, 2015
Napa Valley's Signorello Estate is pleased to announce a new partnership with Southern Wine & Spirits of the Pacific Northwest —a division of Southern Wine & Spirits of America, Inc.(Southern)—to distribute its brands in six western states. Southern has been retained to market and distribute the Signorello Estate, Edge, Fuse and Trim product lines in Washington, Oregon, Idaho, Alaska, Utah and Wyoming beginning immediately.
"We are excited to partner with Southern in these states where they have developed a very impressive network of sales representatives and marketing initiatives that we believe are a perfect fit for our portfolio of brands," said owner Ray Signorello, Jr.
"On behalf of the entire Southern Wine & Spirits Pacific Northwest team, we are thrilled to partner with such a premier vineyard as Signorello Estate," said John Klein, Executive Vice President, General Manager of Southern's Pacific Northwest division. "Ray Signorello, Jr., is one of Napa's Silverado Trail's most respected premium fine winemakers. Matt Haskins, SVP, Pacific Northwest for Southern, will oversee this iconic Napa Valley brand in our portfolio, and we are confident that Southern will take Signorello Estate to greater prominence across the entire Pacific Northwest."
Signorello Estate celebrates its 30th anniversary this year producing wine from its 100 acre Napa Valley estate. Among the wines that will be distributed in the states where it is partnering with Southern are its Estate Cabernet Sauvignon, Padrone Cabernet Sauvignon and Hope's Cuvee Chardonnay, all produced from the winery's well-established estate vineyards.
Southern will also represent Ray Signorello's Edge, Trim and Fuse brands, all delivering high value, high quality Cabernet Sauvignon at various price points.
About Signorello Estate
First planted in the 1970s and producing Napa Valley estate wines since 1985, Signorello Estate is based on the concept of the Great Wine Estate—where a collection of contiguously planted vines are farmed by and exclusively for the winery. Ray Signorello pursues the idea of a Napa Valley wine that possesses great structure, intensity, longevity and always reflects a partnership between his vision for the wines and what the estate vineyards will naturally produce. For more information on Signorello Estate and the Edge, Fuse and Trim brands visit: signorelloestate.com. More information on Ray Signorello's Edge, Fuse and Trim brands can be found at trimwine.com, edgewines.com and fusewine.com