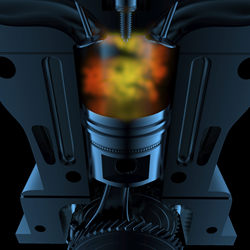 All of our products are developed to help engineers make the right decisions early in the design process. DARS v2.10 does exactly that.
New York and London. May 20, 2015 (PRWEB UK) 20 May 2015
CD-adapco, the largest privately held CFD-focused provider of Computer Aided Engineering software, today announced the release of DARS v2.10. DARS is a standalone simulation tool for the 0D and 1D management and analyses of chemical reactions. DARS v2.10, which is available on the Steve Portal, now features a library generation functionality that makes it possible for customers to quickly explore new fuel blends and operating conditions for simulations with STAR-CD® and STAR-CCM+®.
"This is our first release of DARS since it became a wholly-owned CD-adapco product, so naturally we are very excited," said Jean-Claude Ercolanelli, CD-adapco Senior VP of Product Management. "This latest release will really benefit our customers, especially those who are involved with the analysis of new fuels or existing fuels operating under novel operating conditions."
Ercolanelli added, "All of our products are developed to help engineers make the right decisions early in the design process. DARS v2.10 does exactly that. It enables our customers to predict combustion, chemical processes and emission formation from the earliest stage of the design process, without necessarily having to resort to experimental testing."
The new release makes customers more competitive through the software's enhanced capabilities in the areas of technology, experience and productivity.
Technology
DARS v2.10 provides a new library generation functionality which facilitates analysis of fuel compositions, accurate prediction of knock and emissions for dual fuel engines, exploration of combustion of any fuel or oxidant mixtures and exploration of soot yield for new fuels and new operating conditions. The technological gains in DARS v2.10 provide customers with confidence in their results through new modeling capabilities and advanced technologies. MORE
Experience
The customer experience in DARS v2.10 is enhanced by making the technology more accessible, reducing engineering time and offering straightforward simulation workflows. Users will benefit from a streamlined workflow from DARS to STAR-CCM+/STAR-CD, a new GUI module for library generation, and context sensitive library generation.
Productivity
Using DARS v2.10, engineers will enjoy productivity gains through faster simulations, the ability to explore more designs, faster, and increased efficiency. The objectives are accomplished in DARS v2.10 through the parallelization of library calculations, scripting/command line functionality, and compact libraries.
About CD-adapco
CD-adapco (http://www.cd-adapco.com) is the world's largest independent CFD-focused CAE provider. Our core products are the technology-leading simulation packages, STAR-CCM+ and STAR-CD. The scope of our activities, however, extends well beyond CFD software development to encompass a wide range of CAE engineering services in fluid dynamics, heat transfer and structural engineering. Our ongoing mission is to "inspire innovation and reduce costs through the application of engineering simulation software and services."
A privately owned company, CD-adapco has maintained 15% organic year-on-year growth over the last 5 years. CD-adapco employs 900 talented individuals, working at 40 different offices across the globe.