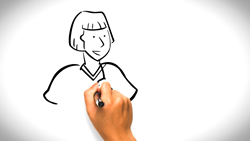 Video can be an effective marketing tool for many different purposes, from visually describing a product's benefits to selling the idea to investors.
Portsmouth, N.H. (PRWEB) May 21, 2015
Calypso Communications, an integrated, full-service public relations, marketing, and creative design firm, recently completed a whiteboard explainer video for the Breeze IV Pump. Breeze was developed by Leveraged Developments, a medical systems design company focused on improving the quality and efficiency of the IV therapy process using this newly developed product system.
Calypso's team of creative experts and writers analyzed the company's goal of introducing the design to clinical experts for product development feedback. The team then constructed a script and whiteboard message that educated users about the problems of current IV treatments and showed how the Breeze IV Pump system provides solutions to those problems, and subsequently created the whiteboard video.
"A video can be an effective marketing tool for many different purposes, from visually describing a product's benefits to selling the idea to investors," said Mike Teixeira, vice president and creative director, Calypso Communications. "We wanted to make sure the end product enabled the clinical audience to quickly see the advantages of an advanced IV solution in a language that would be easily understood by the viewer."
Jeff Carlisle, Founder and CEO of Leveraged Developments, said, "We knew we needed an educational tool that told the story of the evolution of the Breeze IV Pump." Carlisle continued, "We chose Calypso because of their expertise in making complex technology and process issues clear through concise writing and unique motion graphics, and we are more than pleased with the result."
Calypso has a wide range of experience providing communications and creative services to clients in the healthcare and medical device sectors, such as Concord Hospital, Fluidnet, neuragain, OurHealthConnector, Portsmouth Neuropsychology Center, Seacoast Gastroenterology, Shields MRI, Sleepnet, and VasculArt.
The Breeze IV Pump is currently under FDA review.
About Calypso Communications
Calypso Communications is an award-winning, integrated strategic marketing, public relations, and creative agency based in Portsmouth, NH, north of Boston. Highly sought after on a national level for its seasoned insight and perspective, Calypso effectively manages—and, when necessary, fundamentally transforms—client communications, engaging audiences crucial to driving business. Current Calypso clients include prominent national and global organizations engaged in private equity, healthcare, medical device, power services, renewable energy, utility, and sustainable agriculture sectors. For more information, visit http://www.calypsocom.com.
About Leveraged Developments
Leveraged Developments draws on proven clinical, marketing, and healthcare policy expertise of its principals in bringing transformational change to health care processes and workflows, by displacing existing devices with lower-cost, higher-functionality products. The company is led by Jeffrey Carlisle, a medical device entrepreneur with 35 years of proven thought leadership and product success in the fields of electrocardiography, peritoneal dialysis, cardiac EP, electronic medical records (EMR's), and infusion therapy.