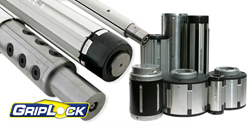 Delivered fast and built to last
Wharton, NJ (PRWEB) May 22, 2015
Convertech announced it will partner with German-based company Erhardt + Leimer Inc. to distribute Convertech products to national audiences.
Erhardt + Leimer Inc. specializes in web control, web guiding and spreading, web tension measurement and control, cutting technology, measurement and inspection technology and print image monitoring.
Convertech and Erhardt + Leimer Inc. are both leading suppliers of products for the converting industry, and other industries such as textiles, paper, corrugating, film, tire, rubber, non-wovens and printing. This new partnership will expand Erhardt + Leimer's range of products and expose Convertech to more U.S. converters and OEM's. Erhardt + Leimer Inc. brings a long tradition of service and innovation that complements Convertech's high-quality products and fast lead times.
About Convertech
Since 1978, Convertech has delivered top-quality shafts and chucks for wide and narrow web applications. Convertech is known for superior engineering, top-quality craftsmanship and fast delivery. All of Convertech's shafts and chucks can be made to order.
About Erhardt + Leimer
For nearly a century, Erhardt + Leimer has delivered innovative system solutions and automation technology for running webs and belts. Erhardt + Leimer has a closely-knit network of "Centers of Service" to support customers worldwide.