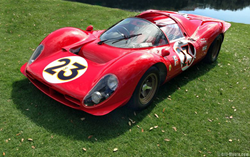 Glickenhaus will drive, not trailer, the 1967 Ferrari P3/4 – surely one of the world's most valuable Ferrari race cars to the Greenwich Concours d'Elegance.
New York, NY (PRWEB) May 20, 2015
More than 250 of the world's finest, rarest and most exciting classic automobiles will be on display for the Greenwich Concours d' Elegance, 30 and 31 May at Roger Sherman Baldwin Park on a verdant peninsula in Greenwich Harbor. One of those, the only Ferrari P3/4 race car ever built, will be driven to the event by its owner, this year's Grand Marshal, Jim Glickenhaus.
Glickenhaus is a long time supporter of the event and renowned among automotive connoisseurs -- especially Ferrari collectors -- for restoring, preserving, driving and now building some of the world's rarest sports and racing cars. He will drive, not trailer, the 1967 Ferrari P3/4 – surely one of the world's most valuable Ferrari racecars -- from his home in nearby Rye, NY to the Concours grounds. His very special Ferrari, chassis No. 0846, won the 1967 24 Hours of Daytona and raced at that year's Targa Florio and Le Mans.
Celebrating its 20th year, the Greenwich Concours also honors its tradition of gathering the most discerning automobile collectors and enthusiasts. One of those, Wayne Carini, will serve as Chief Judge for the 2015 event. A leading car restorer, Carini is of course known by many as the host of Velocity "Chasing Classic Cars" TV show and a master at locating rare "barn finds."
Unique among classic automobile events, the Greenwich Concours has always presented two separate concours fields over a weekend: On Saturday, the Greenwich Concours Americana features American cars, and Sunday's Greenwich Concours International is exclusively for imported sports, competition and touring cars. Each day features some 125 cars and awards trophies for Best-of-Show, Peoples' Choice and various classes.
Two new sponsors join the Greenwich Concours this year, financial powerhouse Charles Schwab and GH Mumm, the official champagne of F1 racing. Spectators might want to "ask Chuck" to advise on the best way to allocate finances for a collector car they dream of. The presence of GH Mumm speaks to the elegance of the Concours. Fittingly, Jean De Castelnau, the GH Mumm Champagne Ambassador, will present the trophy each day for "Most Elegant Car."
The History of the Automobile, Comes to Life Over Two Days
The Greenwich Concours offers spectators an amazing cross-section of auto history. Any spectators driving to the event in a Tesla should definitely have a look at one of its progenitors, one of the oldest electric cars in the world, an 1896 Roberts. Like the Tesla, it's American. It runs on 12 six-volt batteries and will be on the field on Saturday.
Along with well known classics including Auburn, Cadillac, Cord, Duesenberg, Hudson, Packard, Corvette, Alfa-Romeo, Bentley, Ferrari, Delahaye, Aston Martin, Maserati, Porsche, Mercedes-Benz and Rolls-Royce, Greenwich always presents rarities you might not see elsewhere. This year's event is no exception, with examples running the gamut from an Amphicar, a mix of car and boat, to a Russian ZiL, a Cold War-era limousine used by top Soviet leaders. And, if you've never seen a Brazilian sports car, be sure to check out the 1980 Puma GTS Spider.
The Ferrari bloodline is always well represented at Greenwich. In addition to the P3/4, this year's Concours offers a 1959 250 GT, 1964 250 GT Lusso, a 1967 275 GTB/4, 1972 365 GTB/4 Daytona Spyder and a 1983 512BBi.
Muscle car fans can expect to see their share of rarities, including a 1964 Studebaker Avanti R2, a 1969 Yenko Chevelle and a 1969 Shelby GT500.
Local American auto history is also presented at Greenwich. This year, an 1899 Locomobile Model 1 is entered; Locomobiles were made in Watertown, Mass. until 1900 and then Bridgeport, CT until the company's demise in 1929.
Modern sports, luxury and exotic cars are shown on the field, with brand new versions displayed on the field periphery by the event's prestigious sponsors: BMW, Mercedes-Benz, Cadillac, Land Rover and Volvo. Some of the sponsors' cars will be available for spectators to test-drive.
Another sponsor, who has been with the event all 20 years, Greenwich-based Miller Motorcars, showcases the newest models from Ferrari, McLaren, Pagani, Bugatti, Rolls-Royce and Bentley. With their help there will be a special super car circle headlined by a stunning Pagani Huayra.
Million-Dollar Classics for Sale at Bonhams Auction
One of the most talked-about attractions at the Greenwich Concours, a kind of bonus show, is the Bonhams Auction of rare and important collector cars and automobilia held on Sunday. This year's top attraction is a 1938 Bugatti Type 57C Stelvio convertible with coachwork by Gangloff. It's estimated sale price is $900,000-$1.1 million. Spectators can view the consigned vehicles on Saturday, included with Concours admission.
There are usually 90-100 classic automobiles to see in the auction tent, many of them rarely seen models from private collections. (Admittance to the auction tent on Sunday requires purchase of a catalog by bidders and spectators.)
Classic Racing Yachts
Sailing enthusiasts also find something to see at the Greenwich Concours. Berthed across from the Concours grounds in Greenwich Harbor, the ex-America's Cup 12-meter yachts America II, Freedom and Lionheart will be on view for spectators.
AmeriCares
Americares, ranked as one of the most efficient charitable organizations in the country, is the charitable beneficiary of the Greenwich Concours. Since 1982,
AmeriCares has delivered more than $12 billion in aid to help people in 164 countries. The organization responds quickly to humanitarian emergencies, for example sending medical personnel and supplies to Nepal within 48 hours after the worst earthquake there in 80 years. Closer to home, AmeriCares was on the scene with aid during Hurricane Sandy in 2012.
A must-see event for car enthusiasts of all stripes, the Greenwich Concours d' Elegance is listed in the North American edition of "1,000 Places to See Before You Die."
Getting to the Greenwich Concours
The Greenwich Concours Americana and the Concours International are open from 10am to 5pm on Saturday and Sunday. Admission is $40 per day, or $60 for a two-day pass, and children 12 and under are free when accompanied by an adult. Parking is free, and food service is available on site. The dates for 2015 are May 30 and 31, rain or shine.
The ease of getting to the Concours also contributes to its popularity. It is immediately off Exit 3 of I-95, and within a block of the Metro North train station with express service from New York and Boston. Within walking distance is Greenwich Avenue - the Rodeo Drive of the East - with its many restaurants, antique shops, luxury stores, and boutiques. Hotels, ranging from the modest to ultra-luxe, are also close by, with the Delamar, the host hotel, right at the Concours site. The Concours web site, GreenwichConcours.com includes a map, driving directions, and contact information.
# # #
Follow and tag #GreenwichConcours on:
Twitter - @GwichConcours
Instagram - GreenwichConcours
Facebook - Greenwich Concours d'Elegance