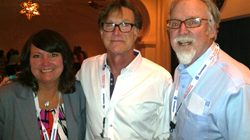 We couldn't possibly count the money that we've made with TRIC equipment.
Alameda, CA (PRWEB) May 19, 2015
May 13 through 15, 2015, TRIC Tools, attended the 40th Annual Roto Rooter Franchisee Convention & Exposition at The Westin - Lake Las Vegas in Henderson, NV. TRIC's Sales Executive Jay Battin, and Technician Duane Cromleigh were happy to see so many familiar franchisees. Roto Rooter helped start the lateral Pipe Bursting phenomenon 14 years ago when Concord Roto Rooter's Joe Bristol introduced TRIC Tools to the Roto Rooter Franchise organization. TRIC was a preferred vendor at the event and shared space with 19 other vendors and brought Roto Rooter up to date on TRIC's latest technologies.
Both Mr. Battin and Mr. Cromleigh shared a tour of the strip, highlighted by the comedy magic of Mac King. Golf at the Lake Las Vegas course left golfers frustrated though inspired to take their game to the next level. On Wednesday, May 13th, the welcome reception was a relaxing way to break the ice with fellow vendors and Roto Rooter Franchisees. Some of the new faces met were Brian Carter and Scott Wiederhoeft. On Friday, TRIC showcased its Pipe Bursting equipment and water tool replacement accessories. Larry Fitch of Roto Rooter Concord, who has been a user of TRIC's lateral and mainline pipe bursting equipment for 17 years, remarked, "We couldn't possibly count the money that we've made with TRIC's equipment."
Saturday concluded with a Fun Run organized by Nick Woodhead, President of US Jetting. Nick and his daughter Sally matched donations for Operation Homefront a charity for wounded soldiers. Roto Rooter Mike Zaffuto, of Greenville, South Carolina won the Fun Run two miler for the 2nd year in a row. On the way back to California, Jay and Duane stopped at Peggy Sue's Diner in Yermo, CA.
"Peggy Sue's is the most heartfelt good vibe 50's Diner imaginable," remarked TRIC's Jay Battin.
For more information about Trenchless Pipe Bursting equipment or the Trenchless Industry in general - please call 888-883-8742 or visit TRIC's website at: http://www.trictrenchless.com to see how they can answer any of these questions for you. Get your Trenchless Sewer and Water Replacement service off on the right foot, and help get you profitably pipe bursting.