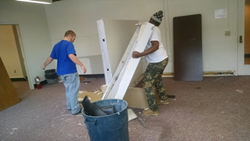 McKeesport, PA (PRWEB) May 19, 2015
Duquesne Light has been a supporter of Auberle's workforce development program, the Employment Institute, since 2011. Their recent gift of $50,000 through Pennsylvania's Department of Community and Economic Development's (DCED) Neighborhood Assistance Program (NAP) renews their commitment to helping at-risk young adults find self-sufficiency. The Employment Institute helps youth ages 16-24 earn national certifications, paid internships, employment and supportive services like free driver's training and life skills development classes. Duquesne Light Senior Community Relations Specialist, Lisa Minor, explains "NAP allows corporations such as ours to support programs at a significant level to help improve our communities while receiving benefits for participation."
According to http://www.newpa.com, the PA DCED official website, millions of dollars from the private sector have been invested in programs that have a positive impact on communities across the state through NAP. Through these programs, businesses like Duquesne Light are able to earn tax credits while supporting social service partners who are solving our region's most complex issues. Auberle's Employment Institute, for example, receives referrals from over 40 other agencies and serves over 200 young adults per year. The youth who earn employment, experience an 80% retention rate and earn, on average, $10.20 per hour. With the support of Duquesne Light, Auberle has been able to remain responsive the growing need for the program while remaining committed to best practices. According to Auberle Director of Development, Bridget Clement, "Partnerships like the one between Auberle's Employment Institute and Duquesne Light help to rebuild our middle class and ensure a robust regional economy for years to come"
Duquesne Light also provides annual volunteers for days of service at Auberle. Most recently, Duquesne Light employees spent the day with the youth on Martin Luther King Jr. Day. The employees completed educational activities with the youth and engaged in services learning projects.
Since 1952, Auberle is where life changes for kids and families. Auberle's mission is to help troubled children and families heal themselves. We serve over 3,250 at-risk children and families each year in 16 program areas centered in trauma-informed care. Auberle is a Sanctuary Model of Trauma-Informed Care certified agency, serving 60% of our clients in their home, school or in their community. We have been recognized by our nonprofit peers across the nation as well as by the local business community. The Alliance for Children and Families, the largest network of human services organizations in the country with hundreds of member agencies, named Auberle Agency of the Year in the U.S. In 2014 alone, Auberle received five awards from the business community for excellence.