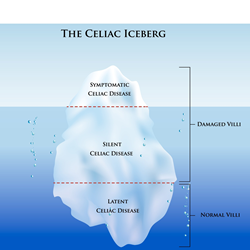 One of the most frequent misconceptions related to Celiac disease is that it is a condition solely linked to the digestive system
Orland Park, IL (PRWEB) May 18, 2015
"One of the most frequent misconceptions related to Celiac disease is that it is a condition solely linked to the digestive system," explained Diana Sourek, MS, CNC, Certified Gluten Practitioner and manager of New Vitality Health Foods, Inc. "Celiac disease can present with many non-gastrointestinal abnormalities such as iron deficiency anemia, skin disorders, neurological disorders, recurrent miscarriage, defective tooth enamel and hundreds of others that can affect every organ and cell within the body. Many individuals with celiac disease may have no symptoms at all."
Celiac disease can first appear in infants when they begin to eat gluten products. However, it may not be diagnosed at that time and symptoms flare and diminish through adolescence and into adulthood, when symptoms reappear again.
Celiac disease can present with typical gastrointestinal symptoms such as diarrhea, weight loss, bloating, flatulence, and abdominal pain. However, the majority of the over 300 celiac disease symptoms are non-gastrointestinal abnormalities. In fact, adults are less likely to have digestive symptoms, with only one-third experiencing diarrhea. (1)
Most frequent non-gastrointestinal symptoms in adults:
1. Joint Swelling and Pain: People with celiac disease experience high levels of joint pain. The most common locations are the knees, back, hips, wrists and shoulders. (2) Joint swelling often appears before any digestive symptom. For those with non-celiac gluten sensitivity, joint swelling is the top complaint.
2. Skin disorders: A multitude of skin disorders have been associated with celiac disease, including: alopecia, canker sores, eczema, psoriasis, rashes, and dermatitis herpetiformis. (2)
3. Thyroid disorders such as hypothyroidism, Hashimoto's and Graves disease
4. Migraines: People with celiac disease suffer from migraines at a rate far higher than the general population -- several studies have found nearly 30% of celiacs also have migraines. (4)
5. Neuropathy: Neurological disorders are estimated to occur in 6-10% of patients with celiac disease with peripheral neuropathy and ataxia being the most frequently described. (5) An undiagnosed celiac disease sufferer my find their extremities exhibit nerve problems. This can include a tingling sensation in the hands and feet, ranging from mild to "fallen asleep". Numbness is a common complaint.
Most frequent non-gastrointestinal symptoms in children:
1. Skin disorders
2. Delayed Growth and weight gain, as well as delayed puberty: Children with celiac disease often have failure to thrive — these children fall behind on the growth curve, showing height and weight gain that's significantly below that of their same-age peers. If they remain undiagnosed, these children might wind up with short stature in adulthood due to their celiac disease. (6)
3. Dental problems such as defective tooth enamel, white spots on the teeth, and grooves or pits in the teeth
6. Autism and learning disorders
4. Night terrors: Sleep disorders are more common to those children suffering from celiac disease vs. the rest of the general population. Children often experience vivid dreaming and night terrors.
5. Leg pain: Children with celiac disease often experience musculoskeletal problems such as muscle cramps, leg pain, joint and bone pain.
"The prevalence of celiac disease is increasing worldwide and many patients with celiac disease remain undiagnosed, highlighting the need for improved strategies for the optimal detection of patients," shared Sourek. "It is vital to have continuous dialog with your health care provider regarding all of the symptoms you maybe experiences. By working together and connecting all of the pieces can ultimately lead to earlier diagnosis."
New Vitality Health Foods, Inc. and Vital Health, Inc., were the first businesses in the Chicagoland area to offer the insight a Gluten Free Practitioner brings to their customers. The Certified Gluten Practitioner program is designed to present an in-depth understanding of the causes of non-celiac gluten sensitivity and celiac disease. As a result, this commanding knowledge of gluten and how it can affect the body can be utilized to help educate the customer.
In order to further demonstrate their commitment and share their expertise, New Vitality Health Foods, Inc. offers a free monthly Celiac/Gluten Intolerance Support Group. Visit the New Vitality Health Foods, Inc. website for more information about upcoming meetings. (http://www.newvitalityhealthfoods.com)
Sources:
(1) http://celiac.org/celiac-disease/symptomssigns/
(2) http://celiacdisease.about.com/od/symptomsofceliacdisease/a/Celiac-Disease-And-Joint-Pain.htm
(3) http://www.celiaccentral.org/skin/
(4)http://celiacdisease.about.com/od/symptomsofceliacdisease/a/Celiac-Disease-And-Migraine.htm
(5) http://www.neuropathy.org/site/News2?id=8201
(6) http://www.webmd.com/digestive-disorders/celiac-disease/celiac-disease
About New Vitality Health Foods, Inc.:
Established in 1988, New Vitality Health Foods, Inc. provides Chicagolands' largest selection of allergy-free foods that have met their high standards for taste, quality, and nutrition. New allergy-free foods are introduced weekly. They also carry frozen foods, vitamins, herbs, homeopathic, aromatherapy, body care, pet care, household items and much more. New Vitality features only the highest quality, effective nutritional supplements to support their customers' total health. New Vitality Health Foods, Inc. is located at Orland Park Crossing, 14225 S. 95th Avenue Suite 410, Orland Park IL, 60462