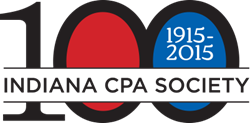 Indianapolis (PRWEB) May 18, 2015
The Indiana CPA Society celebrated a momentous occasion last Friday and honored the state's top CPAs. Each year INCPAS recognizes CPAs who have served their profession and/or communities in an outstanding manner. The contributions these professionals make reflect positively on the individuals as well as the CPA profession. The following 12 major award winners were honored at CPA Celebration on May 15 at the Indiana Roof Ballroom, a gala that celebrated the Society's centennial anniversary.
CPA ADVOCACY AWARD
This award recognizes significant contributions advocating for the CPA profession through government relations.
Michael B. Bedel, CPA, CGMA
Partner and Director of Audit and Assurance Services, Sponsel CPA Group, LLC, Indianapolis
Mike Bedel is a strong supporter of both the CPA profession and INCPAS. He is the current chair of the Indiana CPA-PAC trustees. In this role he communicates with PAC donors so they understand why it's important to donate. In 2014, Bedel helped the Indiana CPA-PAC raise a record $46,000 in contributions. He was awarded the INCPAS Emerging Leaders Award in 2007 and was a finalist for the "Indy's Best and Brightest" awards in 2008. Bedel has also served as an INCPAS Legislative Key Person, member of the Leadership Cabinet and Leadership Cabinet Advisory Council and a member of the Emerging Leaders Alliance. Bedel encourages many young CPAs to become in involved with INCPAS through advocacy and leadership.
EMERGING LEADERS AWARDS (FIVE WINNERS)
This award recognizes up-and-coming leaders who have already demonstrated initiative in the profession and made significant contributions to the overall success of his/her employer.
Caleb R. Bullock, CPA, CGMA
Supervisor and External Auditor, Somerset CPAs, L.P., Indianapolis
Caleb Bullock is a leader in many capacities. He has leadership positions through INCPAS, at his firm, Somerset, CPAs, L.P., and in the Indianapolis community. With INCPAS, Bullock has been an online community manager, campus presenter, member of the Emerging Leaders Alliance and a conference planning committee member for the Young Pros Conference. At Somerset CPAs, L.P. he has developed relationships with collegiate accounting clubs to help promote the profession and his firm. He also currently mentors seven people at his office and developed a four-hour training module on auditing procedures to be used by all new hires at Somerset, CPAs, L.P. Bullock is also treasurer for the Young Professionals of Central Indiana.
Lisa M. Carley, CPA
Audit Senior Manager, Crowe Horwath, LLP, Indianapolis
Lisa Carley has been recognized for her achievements many times at Crowe Horwath. She has received three LOVAs (The Living Our Values Award) including the "We CARE" award for being a positive mentor to all staff members. She joined Women Leading at Crowe and also mentors four other Crowe employees along with serving as an internal instructor for the organization. When it comes to working with clients, Carley goes above and beyond. She is constantly receiving positive comments and praise from her clients and was recognized as one of Crowe's elite class of client experience ambassadors. Carley also helped coordinate a women's network among Crowe Horwath, BMO Harris Bank and Bose, McKinney & Evans which helps connect professional women to further their own careers as well as help empower young girls.
Marques A. Fisher, CPA
Assurance Senior Associate, PricewaterhouseCoopers, LLP, Indianapolis
Marques Fisher is a leader throughout the CPA profession, but especially with his diversity efforts. He is a member of the INCPAS Emerging Leaders Alliance and the Diversity Project Team. He also has served as a project team member and discussion leader for INCPAS GameOn: CPAs in Action and Diversity Summit. At PricewaterhouseCoopers, LLP, Fisher is active in their Diversity Council, volunteers for numerous high school student financial literacy sessions and helps recruit for the firm at Indiana, Ball State and Purdue universities. He was also selected to represent PwC at the Howard Leadership Conference in 2012. Along with being a member of INCPAS, Fisher is also a member of the Ball State Accounting Alumni Board, AICPA and NABA.
Kira R. Sexton, CPA
Manager, CliftonLarsonAllen LLP, Indianapolis
One of the greatest ways Kira Sexton is a leader is through her philanthropy. She was a three-year member of INCPAS Emerging Leaders Alliance which led to her involvement with the Society's CPA Day of Service. Sexton has coordinated the CliftonLarsonAllen office's involvement in the Day of Service at the Midwest Food Bank for the past three years. Sexton recruits and trains CliftonLarsonAllen staff not only in the Indianapolis office, but also throughout the Midwest region. She has also mentored high school students for the INCPAS Scholars Program the past two years.
Daniel B. Stichter, CPA, CGMA
OEM Analyst, Tecomet, Warsaw
Daniel Stichter has helped Tecomet increase gross margins, reduce waste in the finance department and improve the cycle count process. He was also selected to participate on the management team that is implementing a strategic plan for the company's success under new private ownership. Stichter also developed an accounting internship program at Tecomet; he welcomes and mentors high school and university students each year as his interns. Stichter served on the INCPAS Emerging Leaders Alliance for three years and currently serves on the INCPAS Business & Industry Conference Project Team. He has also promoted the profession by being an INCPAS Scholars Program mentor.
OUTSTANDING CPA IN COMMUNITY SERVICE AWARD
This award recognizes outstanding service to the Society, CPA profession and community over a long period of time.
Sherry D. Davis, CPA, CGMA
CFO of Research, Eli Lilly & Company, Indianapolis
Sherry Davis has been extremely involved with the profession over the years, whether it's at Eli Lilly & Company where she is the CFO of Research or to the CPA profession in general. Her main service focus is on helping and mentoring students who are interested in becoming CPAs. Davis' goal is to provide opportunities to help others reach their full potential. She has been a member and chair of the INCPAS Diversity Council and INCPAS Leadership Cabinet. Davis has also been a mentor to many INCPAS Scholars over the years.
OUTSTANDING CPA IN BUSINESS & INDUSTRY AWARD
This award recognizes a CPA in business and industry who has been instrumental in the success of their employer and/or made a notable entrepreneurial achievement.
James B. Fulton, CPA, CGMA
Director/Chief Financial Officer, Graham-Allen Partners, South Bend
As Director and CFO of Graham-Allen Partners, LLC, James Fulton has played a large role in helping launch three start-up companies. With Fulton's help and guidance, these companies have created 35 tech jobs in Northern Indiana. Fulton has been on many committees throughout his career including being one of five people selected to Crowe's Enterprise Leadership Program. Fulton is a member of INCPAS, AICPA and Financial Executives International. He has also hosted and been the discussion leader for CPE courses in Northern Indiana for CGMA members.
OUTSTANDING CPA IN PUBLIC PRACTICE AWARD
This award recognizes a CPA in public practice who has contributed to the success of their firm and/or has an interest in providing emerging CPA services to clients.
Michael P. Merkel, CPA, CGMA
Member, La Rosa & Co., LLC, Indianapolis
Mike Merkel is constantly looking for ways to help both his company and the CPA profession. He is a strong proponent of mentoring and has mentored staff at his company along with high school and college minority students interested in the profession. Merkel has been involved with the Society's Tax Advisory Committee and the Legislative Key Contact Program. He is a member of INCPAS, the AICPA, the AICPA Tax Section and the Florida Institute of CPAs. Merkel has been a member at La Rosa & Co. LLC since 2000.
OUTSTANDING EDUCATOR AWARD
This award recognizes an accounting educator who has made significant contributions to accounting education and the CPA profession.
Timothy R. Akin, CPA, CFP, PFS
Former Professor of Accounting and Finance, Marian University, Indianapolis
Tim Akin made many contributions to Marian University over the 40 years he taught there. Akin formed the Accounting Department which included preparing all of the department curriculum, brochures and literature. He later went on to prepare the new finance major and its related curriculum and courses at Marian. This expanded the Accounting Department to the Accounting and Finance Department. Akin also started the Accounting and Finance Internship Program and the Accounting and Finance Society. He made numerous other contributions to Marian and recently retired at the end of the 2014-2015 school year.
CHAIR'S AWARD
This award is selected by the prior Chair for guidance, assistance and support during the Chair's term.
Charles Johnson III, CPA, CGMA
Managing Principal, Engaging Solutions, LLC, Indianapolis
Charles Johnson began his career at the Indiana State Board of Accountants where he worked for 21 years and served as the principle officer for eight years. Johnson has been heavily involved with INCPAS over the years and has had many leadership roles. He joined the board in 2008 and is distinguished by being the first African American chair of INCPAS in 2011. He has helped with the Society's diversity initiatives and with recruiting minority students to the profession. He currently serves on the INCPAS Audit Legislation task force and is an AICPA Council member representing Indiana CPAs.
DISTINGUISHED SERVICE AWARD
This award is the Society's highest honor for making significant contributions to the CPA profession, the AICPA and/or the Society on numerous levels.
Catharine P. Stewart, CPA
Retired Partner and Shareholder, Estep, Doctor & Co., PC, Muncie
Cathy Stewart was a shareholder and officer at Estep, Doctor & Co., PC for over 20 years before retiring in 2013. She began her career as a staff accountant for R.J. Whitinger & Company. Stewart shows her passion for the Indiana CPA Society by staying extremely involved. She has been on a committee, task force or board of directors each year of her career and continues to serve in her retirement. She was an INCPAS Board Member from 2006-09, served on the INCPAS Leadership Cabinet and has been a member of numerous committees including the Peer Review Committee, Educational Foundation Board and the Finance Committee. She is currently a member of the Ethics Committee. In 2010, Cathy received the INCPAS Outstanding CPA in Public Practice Award.
If you are interested in full-color professional photos or event pictures of the award winners, contact Elise May at (317) 726-5012.
###
About the Indiana CPA Society:
Nearly 8,100 CPAs in public practice, business and industry, government and education are members of the Indiana CPA Society. INCPAS serves the public interest as well as its members. Its members are required to abide by the CPA profession's code of conduct. INCPAS members also receive access to quality educational programs and peer networking for knowledge sharing. Society members are trusted advisors to Indiana's business community. INCPAS is celebrating its 100th anniversary in 2015. For more information, visit incpas.org.