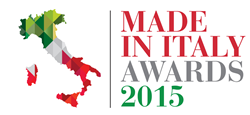 New York (PRWEB) May 19, 2015
The U.S. edition of the Made in Italy Awards 2015 will take place on September 2015, in New York, in the presence of a vast audience of Italian and American business, institutions and celebrities.
The Made in Italy Awards 2015 is under the patronage of the Italian Trade Agency, ITA which is the government organization promoting the internationalization of the Italian companies, in line with the strategies of the Ministry for Economic Development of Italy.
The 2015 edition has been reorganized to include a new and more comprehensive voting mechanism. Any company or individual can submit a nomination to participate at the awards. Nominations will be examined by a panel of judges selected in United States of America, and composed of independent and influential editors, chefs, business leaders, professors, actors/entertainers, and 'institutional' personalities. The public will also be able to cast their vote online.
The Made in Italy Awards are assigned in the following eight categories:

Food & Beverage: Food, Wines, Spirits, Restaurants & Chefs.
Fashion: Women Clothing, Women Accessories, Men Clothing, Men Accessories, Sartorial Clothing, Jewelry.
Motors: Automotive, Motorcycles, Boats.
Design: Home, Design, Architecture.
Travel & Leisure: Hotels, Tourism Services.
Media: Journalists, Writers, Bloggers, Digital.
Artists: Actor, Actress, Performing Artist, Director.
Business: Company, Business Woman, Business Man.
The Awards Ceremony will include live performances and a fashion show and will be followed by more than 100 journalists from USA and Italy.
###
Made in Italy Awards USA 2015 is a production by Made in Italy Awards Corp.
Based in New York, the company is focused on the promotion of Italian excellence in the world.