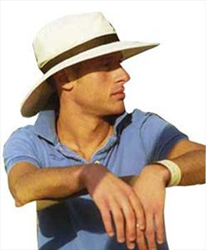 San Diego, CA (PRWEB) June 02, 2015
"We want men to realize the importance of protecting their skin from damaging ultraviolet (UV) sun rays", states Marta Phillips, owner of SunGrubbies.com, "that is why we offer a large selection of men's sun hats and sun accessories that work well for outdoor activities."
The effects of excessive sun exposure are not immediately evident. Sometimes sun damage can take up to thirty years to develop. The face, scalp, ears and neck are prime areas for skin cancer to occur. That is why the simple act of wearing a large brim hat can greatly reduce premature aging and the chances of skin cancer.
Dads will appreciate the new breathable sun protective shirts that are travel-friendly and travel-ready. Available in a variety of colors that range from bright lime green to soft glacier blue, some shirts have the ability to keep bugs at bay with built in insect repellent.
Check out the selection of men's sun protective pants. Engineered for adventure, these pants are made from lightweight quick dry fabrics and are great for the trail, but nice enough to wear around town. Some styles also come with the innovative built-in insect repellent feature.
Every head needs a hat, so do not forget about a stylish large brim sun hats that are now available in extra large sizes. Hard-to-find sun accessories like sun sleeves, sun gloves, neck protectors and sun protective golf umbrellas also make great gifts.
About SunGrubbies.com
SunGrubbies.com is a sun protection company that has been in business in the San Diego area since 1997. Started by Marta Phillips, an avid beach volleyball player, Marta found staying sun safe was neither comfortable nor attractive. Her solution was to start a company that would keep people safe under the sun by offering stylish, comfortable sun protective clothing and accessories of the highest quality and reliability. For more information visit http://www.sungrubbies.com, to view their selection of sun protective products as well as sun tips, links and sun safety information. Their toll free phone number is 888-970-1600.
SunGrubbies.com products have been laboratory tested for their sun protective ability and every purchase is 100% guaranteed. Their San Diego hat shop is open 10:00 am to 2:00 pm Monday through Friday.