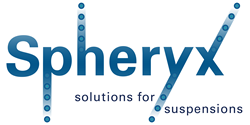 New York, NY (PRWEB) May 19, 2015
Spheryx, Inc. announced today that the National Science Foundation (NSF) has awarded the company a Small Business Innovation Research (SBIR) grant. This award will fund the development of a novel approach to analyzing the physical properties of colloidal dispersions, Total Holographic Characterization, based on holographic video microscopy.
This patented technology, exclusively licensed to Spheryx, will have immediate applications in industries as diverse as pharmaceuticals, cosmetics, personal care products, petrochemicals, coatings and food, all of which rely on the properties of colloidal dispersions. The worldwide market for particle characterization exceeded $5B per year in 2012. The funded work extends the state-­of-the­-art in particle characterization by providing simultaneous information about both the size and the composition of individual particles in suspensions.
Dr. Laura Philips, President and CEO stated, "This SBIR award is an acknowledgement that these innovations to Total Holographic Characterization, if successful, can be a powerful tool for industry. Access to new dimensions of information will be useful for product development, process control and quality assurance in all industrial sectors that rely on properties of colloidal materials, thereby increasing opportunities for innovation, enhancing product performance, and decreasing manufacturing costs." Dr. David Ruffner, Director of Analytical Services and Research Scientist added "These funds will be committed to transforming holographic characterization from ideal laboratory samples to real world industrial materials. The improvements will allow us to characterize particles in theses non-ideal suspensions with nanometer resolution in size and part per thousand in refractive index."
No other particle characterization technique offers such a wealth of particle­ resolved information. The delivery of a 100 ­fold acceleration in performance, funded by this grant, will enable applications in large volume and high throughput applications. Spheryx plans to use the resulting real ­time capabilities to improve manufacturing efficiency by identifying and helping to correct process deviations and failures. In so doing it will reduce product costs in all of the industrial sectors that develop and sell colloidal materials.
About Spheryx, Inc.
Spheryx, Inc. is a privately held analytical services and instruments company providing Total Holographic Characterization of colloidal materials. The breakthrough proprietary technology uses holographic video microscopy to characterize each particle in colloidal dispersions and multi-component colloidal mixtures, thereby offering unprecedented insights into these materials' characteristics. Applications include research and development, quality assurance and manufacturing process control across a broad spectrum of industries, where characterization of colloids can enhance innovation, improve safety and reduce costs. For more information please visit the company's website at http://www.spheryx.solutions
Note: This news release contains forward-looking statements regarding future events. These statements are just predictions and are subject to risks and uncertainties that could cause the actual events or result to differ materially. These risks and uncertainties include, among others: the results, timing and costs of our studies; our ability to obtain future funding on acceptable terms; the possible impairment of, or inability to obtain intellectual property rights; and innovation by our competitors.