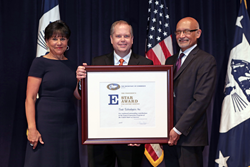 Trade Technologies has demonstrated a sustained commitment to export expansion. The "E" Awards Committee was very impressed with Trade Technologies' creativity and innovation in document services
Austin, Texas (PRWEB) May 19, 2015
Trade Technologies, the global leader for international trade document solutions, was awarded the Presidential "E" Star Award for Export Services by the U.S. Department of Commerce Secretary Penny Prizker today in Washington D.C. The award was accepted by Greg Jones, Trade Technologies' Vice President of Engineering.
This is the second time in the past four years that Trade Technologies has won a prestigious "E" award from the U.S. Department of Commerce. In 2011, Trade Technologies was awarded the President's "E" Award for excellence in export services, the highest U.S. award for supporting American export growth. The "E" Star Award is given for continuing efforts to improve U.S. export service. Only winners of the "E" Award can compete for the "E" Star Award.
"Trade Technologies has demonstrated a sustained commitment to export expansion. The "E" Awards Committee was very impressed with Trade Technologies' creativity and innovation in document services," said Secretary of Commerce Penny Prizke. "The Company's contribution to the continued record of success of its clients was also particularly notable. Trade Technologies' achievements have undoubtedly contributed to national export expansion efforts that support the U.S. economy and create American jobs."
"Congratulations to Trade Technologies for winning this prestigious award once again. Their innovative technologies are on the cutting edge of document services," said Congressman Michael McCaul. "Trade Technologies' continued success is a testament to the dedication and passion they have for the export services industry and strengthening the American economy. I am proud that such a great company calls Austin home."
All nominations are reviewed by the "E" Award committee which is chaired by the Department of Commerce. This committee includes representatives of Exim Bank, the Small Business Administration and the Department of Agriculture, Labor, State and Transportation. President Kennedy revived the World War II "E" symbol of excellence to honor and provide recognition of America's exporters. Thus, the "E" Award Program was established by Executive Order 10978 on December 5, 1961. A second award, the President's "E" Star Award, was authorized by the Secretary of Commerce in 1969 to recognize "E" Award recipients for their continuing significant contributions to the U.S. export expansion.
"To receive the President's "E" Star Award is a tremendous honor for Trade Technologies," said Kirk Lundburg, CEO of Trade Technologies. "This recognition validates our deep commitment to making an impact in the international trade documentation market. The President's "E" Star Award is another reminder of the benefits to maintaining our high standards of service, quality and innovation in today's competitive markets."