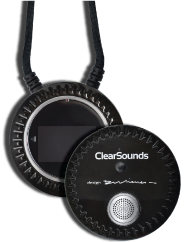 Many people's vanity, their self-consciousness stops them from exploring solutions for their hearing loss, and their health and relationships really suffer as a result.
Naperville, Ill. (PRWEB) May 21, 2015
In honor of May being Better Hearing Month, ClearSounds Communications, the leading manufacturer of highly-advanced listening devices for individuals with hearing loss, has announced the launch of a new campaign to raise awareness of the prevalence and harmful effects of hearing loss to Americans and their healthcare providers.
The "Do You Q?" campaign encourages individuals to visit its website in order to learn more about hearing loss in a new and different way. A sleek, user-friendly mini-site, Do-U-Q.com was designed as a self-serve environment that empowers visitors to learn about their hearing health without feeling intimidated or overwhelmed.
Michele Ahlman, President and CEO of ClearSounds, pointed out that hearing loss is considerably more damaging than most people know. "What people don't realize is that, although hearing loss itself may not technically be life-threatening, it can be a symptom—often an early sign—of serious conditions like heart disease and diabetes," said Ahlman. "Additionally, and possibly more importantly, struggling with hearing loss causes frustration and isolation that are absolutely detrimental to relationships and contribute to a significantly higher risk of Alzheimer's, depression and poor physical health."
While doctors measure patients' blood pressure, heartbeat and temperature, they typically will not test a patient's hearing unless the patient expresses a concern about it. Unfortunately, it takes the average person seven years to come to terms with and seek treatment for their hearing loss, so a majority of individuals remain undiagnosed and suffer in silence—quite literally.
ClearSounds recognized the vast divide in health and quality of life between those with hearing loss who continue to suffer and those who actively pursue treatment. The "Do You Q?" campaign strives to bridge that gap by encouraging people to begin conversations about aural health with their doctor. Ultimately, Ahlman said, ClearSounds hopes to see enough attention brought to the pervasiveness and consequences of hearing loss that a hearing screening becomes one of the tests routinely performed by healthcare providers.
In addition to increasing awareness, Do-U-Q.com also provides information on Bluetooth-enabled devices for individuals who are looking to take the first step in finding a solution to their diminished hearing but may feel self-conscious discussing it with their physician. These devices, referred to as the 'Q' line of products, currently include ClearSounds' bestselling Quattro 4.0 Adaptive Bluetooth System—a discreet tool that boasts call waiting/Caller ID display, touchscreen button operation, walkie-talkie function, noise cancellation and more for users who want a crystal-clear stereo sound experience in any environment, with or without hearing aids—as well as the new QT4 Remote Bluetooth Microphone Kit, the QLink Bluetooth Transmitter and the QH2 Bluetooth Hub & Phone Amplifier.
"People tend to have this negative perception of hearing loss and see it as something only 'old people' have, but times have changed and that assumption is way off the mark," explained Ahlman. "Military service, loud music, job functions, certain medications—there are hundreds of causes of hearing loss and each year they affect younger and younger groups. The sad thing is, many people's vanity, their self-consciousness stops them from exploring solutions for their hearing loss, and their health and relationships really suffer as a result. We're hoping Better Hearing Month and our "Do You Q?" campaign will help give them the nudge they needed to finally talk to their doctors."
To learn more about the "Do You Q?" campaign, visit Do-U-Q.com.
About ClearSounds
ClearSounds Communications, based in Naperville, Ill., is a privately-held, family-run and women-owned company that has been creatively, stylishly and economically meeting the needs of people with hearing loss for over 30 years. By designing, engineering, manufacturing, marketing, selling and distributing a complete line of communication, sound enhancement and audio products, ClearSounds is leading the way in cutting-edge technology for individuals with mild-to-moderate hearing loss and anyone seeking a remarkable sound experience. ClearSounds is a 2013 CES Innovation Award Honoree for Accessibility, Design & Engineering.