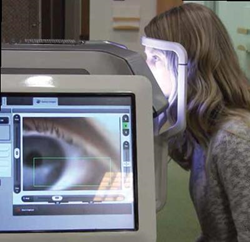 Dry eye is one of the most common disorders associated with ocular surface disease.
Jeffersonville, IN (PRWEB) June 01, 2015
On June 15, just in time for Dry Eye Awareness month, Dr. Black's Eye Associates opens its new Dry Eye Center—the only area facility dedicated exclusively to providing comprehensive diagnostics and customized treatment paths for patients with dry eye and other disorders related to ocular surface disease.
"While the term ocular surface disease may not be widely known, millions of Americans are currently suffering from its effects," says Eye Associates optometrist Dr. Renee Compton. "In fact, it is one of the most common reasons people visit their eye doctor."
Broadly defined, ocular surface disease is a group of disorders that affect various parts of the eye's surface, causing symptoms such as itching, burning, inflamed, infected, or fatigued eyes, as well as fluctuating visual acuity, scarring of the eye's surface, and even vision loss. Dry eye is one of the most common disorders associated with ocular surface disease.
According to Dr. Compton, the Dry Eye Center takes a revolutionary and comprehensive approach to care, starting with diagnosis.
"Until recently, diagnostic technology for ocular surface disease was very limited," she says. "This forced doctors to focus on relieving symptoms, instead of treating the underlying problem. Now, however, a variety of diagnostic technologies are available to help uncover the source of a person's condition."
"Our Dry Eye Center is one of the only area facilities to provide a full range of these advanced diagnostics," explains Dr. Dana Conway, another optometrist on the Dry Eye Center team, "They allow us to create customized treatment plans based on each patient's specific needs."
With this premium system of care in place, Dr. Compton, Dr. Conway, and their staff of highly skilled technicians, intend to help more patients find relief and eliminate the burden of future ocular surface disease symptoms.
For more information about Dr. Black's Eye Associates and the Dry Eye Center, visit Have2020.com.