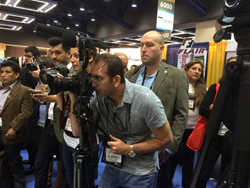 I believe keeping all of our resources in house allows us to achieve a consistent design across multiple mediums, which in turn controls expenses. - Todd Koren
Tustin, CA (PRWEB) May 19, 2015
Marketers today use video on their websites, at trade shows and events, and in social media. Along with booth staffing, concierge services, web design, brochure and white paper writing; Absolute Exhibits, a trade show display builder, has in-house professional video masters. Absolute Exhibits video services offers a full set of integrated corporate, product, convention and special event services, including interactive video, 3D animation, editing, script development, storyboard and audio production, all in-house and with a distinctive style and dedication to creating top-notch video for TV, web or DVD.
In recent years, telling a story or conveying a message through video has grown immeasurably in the event and exhibition industry. Absolute Exhibits, a trade show booth builder, is a one-stop shop for clients who exhibit at trade shows and other professional and private events. "Our innovative company manages all design work – from trade show exhibits to marketing collateral to videos," says Todd Koren, Absolute Exhibits' CEO, "I believe keeping all of our resources in house allows us to achieve a consistent design across multiple mediums, which in turn controls expenses."
The trade show exhibition concept of stopping show attendees in their tracks can only be enhanced by a video presentation. The loud and powerful message of large graphics on or in an exhibit work best with simple messages. Video can augment the overall experience at a trade show exhibit by presenting a multipart message telling a more complete and detailed story. That same video can then by edited or shown in its entirety on the company website, at additional corporate events, or running in the front lobby. Call an account executive for further information.
About Absolute Exhibits:
A leading exhibition firm, Absolute Exhibits provides clients with turnkey solutions for designing and fabricating exhibits while managing the entire trade show experience as a one-source trade show and convention exhibit resource. Established in 2000, with locations in Southern California, Las Vegas, Orlando, and Bucharest, Romania, Absolute Exhibits rents and sells custom and system exhibits at over 300 shows in the USA and in countries around the world.