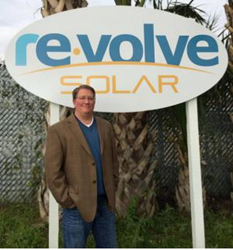 Austin, TX (PRWEB) May 19, 2015
Leaders of solar companies across Texas have joined forces and signed in support of the SEIA's letter urging the state's Senator to show leadership in the Senate to extend the 30% Investment Tax Credit (ITC) for solar power systems beyond 2016. The ITC is a dollar-for-dollar reduction in the income taxes that a person or company claiming the credit would otherwise pay the federal government.
Revolve Solar's CEO Tim Padden said, "As the largest Austin-based solar company, Revolve is proud to join with several other industry leaders from some of the 398 Texas solar companies to highlight the positive impacts that the 30% ITC has had here in Texas and the wider U.S. Over 57,000 homes are powered by solar here in Texas with over $252 million coming into the state's economy in 2014 alone, supporting some 7,000 solar jobs in the state."
The CEO added, "The 30% ITC is a very popular incentive with commercial and residential solar power customers alike and is pivotal factor in whether a customer proceeds with an installation or not. Solar in Texas is on the cusp of wide-scale deployment as prices reach close to grid-parity. Supporting the extension to the ITC will ensure the industry avoids a boom-bust scenario in the 2016-17 period. Instead, we will witness the steady growth of jobs and sustainable, affordable energy as solar increasingly becomes 'the new normal'."
Solar panels offer homeowners and business owners who invest in them substantial savings on their electric bills and the opportunity to fix their energy prices for decades to come, avoiding rising rates and better predicting monthly expenses. The dependable nature and timing of the generation of solar power is also ideal for mitigating against peak rate energy in the middle of the day and year when air conditioners are contributing to the heavy load placed on the electricity grid.
About Revolve: Revolve Solar is a residential and commercial solar design and installation company headquartered in Austin, Texas. Founded by entrepreneur Tim Padden, Revolve commenced operations in early 2012 and quickly replicated its formula to compete in the Redding, Chico and Vacaville, CA markets. Continued expansion in California and elsewhere and further growth in the commercial sector are anticipated for 2015.