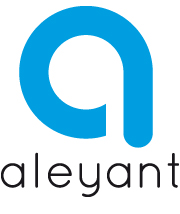 We are looking forward to be bringing our latest solutions to Dscoop EMEA
Wheaton IL and Atlanta GA (PRWEB) May 19, 2015
May 19, 2015. Aleyant, an innovative leader in providing web2print solutions for graphic arts service providers at value-driven prices, today announced it will be exhibiting at Dscoop EMEA, an independent community of HP Graphic Arts users, industry experts and solution partners serving Europe, the Middle East and Africa. Aleyant executives from Europe and the US will be demonstrating the full integration of Pressero, its web-to-print solution, with HP's SmartStream Solution Suite of workflow solutions. Dscoop EMEA will take place in Dublin, Ireland, from 3-5 June.
"We are looking forward to be bringing our latest solutions to Dscoop EMEA," said Greg Salzman, Aleyant's President. "This includes not only the integration of Aleyant Pressero with HP SmartStream Suite, but also Aleyant eDocBuilder, our template-driven variable data solution, and our Automated Workflow Integrator for fast, easy integration of Pressero with a wide range of other solutions. We look forward to our first visit to Dscoop EMEA."
With the integration of Pressero and HP SmartStream Suite, thousands of HP Indigo users that are using HP SmartStream Designer to create highly sophisticated personalized pieces can now use these templates within the Pressero web-to-print storefronts for easy order submission. The file is then sent directly to print through HP SmartStream Composer for rendering, followed by either HP SmartStream Production Center or HP SmartStream Production Pro for print production. This integration allows users to leverage existing Designer templates and eliminates the need to learn a new design tool for template creation, as well as the need to export the data files and manually type all the meta data (copy count, substrate). In this way, it stands to significantly increase print production efficiencies and makes it easier for customers to do business with Print Service Providers.
Aleyant will be represented at the event by Greg Bane, Channel Manager and José Vicente Salas Managing Director Aleyant Spain. Both B2B and B2C storefront examples will be demonstrated, including support for labels, packaging, and wide format products as well as traditional commercially printed items. Aleyant will also be showcasing the mobile friendly, responsive design capabilities of its solutions and have experts on hand to answer questions about additional workflow integration options available with Pressero.
Pressero Web-to-Print System
Aleyant Pressero™ is an affordable and easy-to-use, cloud-based B2B and B2C online storefront solution that can quickly and easily be customized to individual client needs. This includes 'mobile-first' design for branded sites to ensure proper display regardless of the viewing device being used. Pressero includes Aleyant eDocBuilder™, a web-based variable data publishing system built specifically to easily integrate into Aleyant or third-party web-to-print or MIS solutions. eDocBuilder features advanced typography control, imposition, scripting support, PDF workflows, rapid template creation, Excel merge capabilities and more. Aleyant's Automated Workflow Integrator™ (AWI) connects the online storefront's to prepress and production using a rules-based approach to automate such processes as file retrieval and renaming, unzipping zipped files, or sending files and metadata directly to a 3rd party color management or preflight application such as Tucanna tFlow, or a RIP for processing, eliminating multiple steps in the workflow.
For more information about Aleyant offerings, please visit http://www.Aleyant.com or call +1.630.929.0104.
Our blog can be found at blog.pressero.com.
About Aleyant
Founded in 2005, Aleyant is an innovative leader in providing robust software services to the graphic communications industry at value-driven prices. Its expertise lies in developing highly functional and flexible applications using the most current Web development technologies available, including workflow aimed at lights-out automation. Its flagship web-to-print software, Aleyant Pressero™, is a highly customizable retail and business-to-business storefront interface and has launched many of its clients into the exciting world of Internet-based print sales. Aleyant also offers a Web-based online design and variable data publishing (VDP) system, Aleyant eDocBuilder™, as a separate product. Aleyant's solutions are integrated with multiple MIS and web-to-print systems.