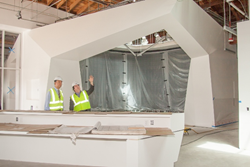 Los Angeles, CA (PRWEB) May 19, 2015
The week of May 10, 2015 was an eventful one for the Los Angeles Cleantech Incubator (LACI), which hosted three elected officials at its headquarters in the Arts & Innovation District in Downtown LA and at its bimonthly Leadership Council meeting. Los Angeles City Councilmember Tom LaBonge (CD-4), California Secretary of State Alex Padilla, and California State Senate President Pro-Tempore Kevin de Leòn (SD-24) visited LACI to get a firsthand look at what the organization is doing to assist cleantech startups and strengthen the regional innovation economy.
Councilmember LaBonge, whose district includes Hollywood, Franklin Hills, and Sherman Oaks and Secretary of State Alex Padilla came to LACI on Monday and Wednesday, respectively. They were given presentations by LACI VP Partnerships Mike Swords, covering topics such as the 20+ innovative startups that LACI is coaching to get to market and the origins of the organization's formation. Since 2011, LACI has been a critical part of the city's economic development strategy, which includes attracting new, innovative businesses to create a sustainable economy and 21st century green jobs.
After touring LACI's 3,000 square foot temporary facility, Councilmember LaBonge and Secretary Padilla were brought to the organization's future home one block away, the 3.2 acre La Kretz Innovation Campus. Scheduled to open later this year, the campus will include collaborative workspace, offices, R&D labs, prototype manufacturing workshops, classrooms, and more. Owned by the Los Angeles Department of Water and Power, the building will create an ecosystem for the green economy, a place where innovative companies and their technologies receive assistance getting to market and where training is offered to the community that will create LA's green workforce.
Senator Kevin de Leòn attended LACI's Leadership Council meeting at the Metropolitan Water District of Southern California on Friday. The Leadership Council, which is comprised of various stakeholders such as the Los Angeles Mayor's Office, the LADWP, LA Area Chamber of Commerce, UCLA, and Caltech, meets bimonthly to discuss the strategic direction of LACI. During his presentation, the Senator spoke about why California will lead the world in the transition to an equitable, low-carbon, water efficient economy. He also highlighted the success of many of California's climate initiatives – such as AB32 and SB350 - in creating jobs, growing the state's economy, and improving public health.
"LACI hosted three of California's most dynamic leaders this week. The visits by City Councilman Tom LaBonge, Secretary of State Alex Padilla and Senator Kevin de Leòn are an affirmation of LACI's growing importance in the state's effort to create a new clean-energy, water efficient economy", said LACI VP Partnerships Mike Swords, who personally lead Councilmember LaBonge and Secretary Padilla's tours through the La Kretz Innovation Campus.
As the opening of the Campus approaches, LACI anticipates more visits from elected officials interested in learning more about the work the organization is doing to make LA a true cleantech industry hub.
About LACI:
LACI is a non-profit, public-private partnership that helps promising companies deliver market-ready cleantech solutions and the jobs that come with them. LACI combines capital, universities, research, government support, entrepreneurs, corporate partners, and business leaders in order to drive innovation throughout the regional, state, and global economy. Recognized as a Top 10 Global Incubator in 2014 by UBI, in its first three years LACI has helped 30+ companies who have raised $50+ million and have created 450+ jobs.