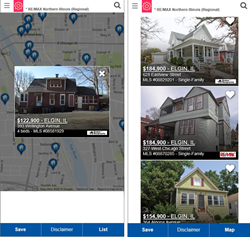 Chicago, Ill. (PRWEB) May 20, 2015
RE/MAX Northern Illinois announces the launch of the next generation of the illinoisproperty.com mobile website. The cutting-edge design marks the next phase of RE/MAX Northern Illinois' mobile strategy, offering users comprehensive access to the complete MLS listing inventory of properties available for sale and rent in northern Illinois.
The new, touch friendly mobile platform allows consumers to view available properties for their desired location with an easy-to-use touchable map view. Additionally, there is one-touch, location-aware search, which will display in real time what properties are available in the defined area.
"We are excited to deliver this next major milestone in our mobile strategy. Not only is illinoisproperty.com receiving a new modern mobile website design, but every RE/MAX agent at the 105 offices in our region will also have these next generation search capabilities. This will give their clients the best possible experience, and one they expect," said Casey Reagan, Chief Technology Officer for the RE/MAX Northern Illinois network.
The rollout of this innovative design simplifies the real estate search process with the on-the-go visitor in mind. In addition to the Map-Centric search capabilities, the modern layout is touchable by nature, with features like scrollable list view, the ability to swipe through photos and auto-populated listings as the user moves through the map.
This improved mobile interface gives visitors the option of signing up for a free My Property Finder account through illinoisproperty.com. Member benefits include full connectivity of the desktop, mobile and app versions of illinoisproperty.com, allowing users to access their saved favorite properties and searches from any device.
"We have more exciting things to come in our mobile strategy, and we are very pleased with how everything is unfolding. Our RE/MAX affiliates now have a modern mobile website and a personalized top-rated mobile app, as well as a digital transaction platform to provide consumers with a streamlined, modern experience for buying or selling a home," added Reagan.
In addition to the new illinoisproperty.com mobile website design, visitors can also download the RE/MAX Northern Illinois Real Estate App to help find the perfect home or commercial property. The RE/MAX Northern Illinois Real Estate App is available for free for at illinoisproperty.com, the Apple App Store and Google Play.
RE/MAX agents consistently rank among the most productive in the industry. In the United States, RE/MAX agents averaged 15.6 years of real estate experience and 16.0 transaction sides in 2014. RE/MAX has been the leader in the northern Illinois real estate market since 1989 and is continually growing. The RE/MAX Northern Illinois network, with headquarters in Elgin, Ill., consists of 2,200+ sales associates and 105 independently owned and operated RE/MAX offices that provide a full range of residential and commercial brokerage services. Its mobile real estate app, available for download at http://www.illinoisproperty.com, provides comprehensive information about residential and commercial property for sale in the region. The northern Illinois network is part of RE/MAX, a global real estate organization with 100,000+ sales associates in 90+ nations.
####
EDITOR'S NOTE: RE/MAX® is a registered trademark. Please spell in all caps. Thank you. This release is posted at blog.illinoisproperty.com.