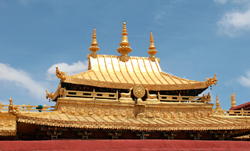 Tibet trekking with TCTS is amazing!
Lhasa, Tibet (PRWEB) May 19, 2015
Travelers planning to trek Tibet during the 2015 travel season are in for the adventure of a lifetime. Those who overcome the challenges of the thin air and long days of hiking will be rewarded with unparalleled mountain scenery. In an effort to cater to trekkers beginner to advanced Tibet Ctrip Travel Service-TCTS (http://www.tibetctrip.com) covers a variety of routes. Now that the travel season is upon us TCTS discusses some of the trekking routes their tours will be covering in 2015.
Mt. Kailash Pilgrimage: Trekkers covering this route are in for a special experience as they join Hindus and Tibetan Buddhists on the ritualistic journey around the base of Kailash. Many locals believe that completing the adventure washes the soul of misperceptions of reality. In total, the hike lasts about 3 days while the entire trip takes anywhere from 18-21 days. Kailash is located in Tibet's remote westernmost region of Ngari making the trip to Kailash as exciting as the trek.
Tsurphu to Yangpachen: This is one of the latest additions to TCTS's lineup of Tibet trekking tours and is great for beginner level trekkers. With 4-6 hours of hiking each day the route will take 4 days in total, allowing the schedule to be flexible to trekkers' own pace. The trail covers fertile green valleys, rolling hills, and a small mountain pass in addition to passing through Nomadic communities.
Lake Namtso: Located only a half-day or so from Lhasa, Lake Namtso is filled with saltwater and holds its place as Tibet's second largest lake. This 4-day trek mixes interesting cultural experiences with the fantastic scenery. Travelers will visit meditation caves along the way before the trek concludes in a lively tent camp town set up to receive Tibetan pilgrims.
These are among the most popular routes and are sure to impress travelers planning to trek Tibet in 2015. For travelers convenience Tibet travel agency TCTS provides equipment such as tents, sleeping bags, and cooking gear along with staff that take care of camp. With the trekking season upon us now is the time to start planning a trip.