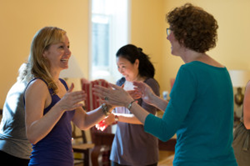 Improv is about creating possibility and being alert enough to recognize golden opportunities when they come.
Washington, DC (PRWEB) May 21, 2015
Mindhatch, an organizational and customer insights firm, has developed a new series of workshops available for this summer. Businesses and nonprofits are working with Founder Coonoor Behal and her team of seasoned improv and organizational trainers to improve professional development training, inspire creativity, and deliver results.
"Coonoor is an excellent facilitator. She effectively utilizes her creativity, improv training, and consulting background to design workshops and exercises that enable groups to arrive at decisions through innovative and interesting methods. Her facilitation style makes attendees feel comfortable while being challenged, which promotes brainstorming and ideation." - Senior Consultant, Deloitte Consulting LLP
While guiding participants through an experience that on the surface feels like "recess for adults", the Mindhatch team uses facilitation skills to unveil actionable business insights and innovations while fostering professional skill development. A Mindhatch improv workshop is customized to fit each client's needs and objectives.
In past workshops, Mindhatch facilitators have worked with clients to create a series of professional development offerings that uncovered new business opportunities for the client. The Mindhatch team has also developed workshops to improve a staff's ability to communicate effectively in spontaneous situations with a variety of stakeholders. Workshops generally include experiential games and activities to demonstrate skills and structured discussion to collaboratively discover actionable and applicable takeaways, insights, and ideas.
Customized focus areas for past client events have included:

Communications and Public Speaking
Customer Service
Innovation and Creativity
Leadership Development
Team Building
"Improv is also a great method to learn other professional skills like leadership or customer service because it is inherently experiential and therefore more memorable. So often in business, we get bogged down in constraints. Improv is about creating possibility and being alert enough to recognize golden opportunities when they come." Coonoor Behal of Mindhatch, Interview with CEO Blog Nation February 16th 2015
To learn more about bringing improv to your workplaces for an upcoming event or conference, visit http://www.mindhatchllc.com
About Mindhatch LLC:
Mindhatch is an organizational and customer insights firm. Mindhatch believes that insights drive results and the best insights come from people — employees and customers. Through design thinking, improv, and facilitation, they discover the capacity for creativity, collaboration, and innovation that exists in everyone for actionable results that bring value to organizations.
About Marketing ROI Group
Marketing ROI Group helps organizations grow and generate their desired return on investment (ROI) from marketing and communications efforts. From small nonprofits to corporations — Marketing ROI Group delivers proven inbound marketing solutions that provide measurable results using industry leading software as well as best practices and methodologies to help achieve goals, while maximizing marketing ROI.