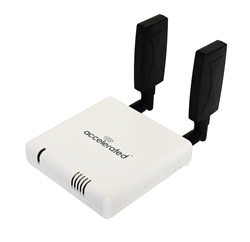 Tampa, Florida (PRWEB) May 21, 2015
Retail stores rely on fast and stable internet connections for sales processing, inventory management and employee communications. In the event of service interruption to a store's traditional network (T1, Cable, DSL, etc.) a number of issues can arise including: lost sales, failed PCI-DSS compliance, slower customer transactions, customer frustration, employee frustration and even a negative brand impact.
Retail locations can benefit from using wireless cellular networks as either their primary connectivity option or as a wireless cellular failover system (i.e. provide emergency backup connectivity) from their traditional network to guarantee uninterrupted Internet access for all their locations.
Typical retail locations will have a need for:

Timely credit card processing / POS operation;
Inventory control;
Product Promotions;
Employee email or communication access;
PCI-DSS compliance; and
Time management.
Providing wireless cellular connectivity as either a primary connection or as a failover connection for retail stores must therefore be:
Simple to deploy:

To avoid costly installation setup;
With auto-call home / automatic provisioning from HQ; and
Averting truck rolls/repairs where possible;
Scalable for hundreds or even thousands of stores;
Secure;
High Performance (4G LTE / or 3G as needed):
Allowing for site survey and ideal placement;
Making good connections great;
With flexible power options including POE if needed.
Affordable;
Predictable;
Flexible (automatically works with most carriers);
Centrally managed, monitored and remote controlled; and finally:
Have a small footprint and attractive design.
As a primary cellular internet connection, using Accelerated Concepts 6300-CX simplifies setup requirements such as removing the need to setup DSL, Cable or T1 connections. The 6300-CX provides a stable connection at a low predictable cost with minimal setup.
In addition, the 6300-CX has the ability to setup primary peer-to-peer VPN connections between store locations and HQ as needed.
As a cellular failover solution, the 6300-CX provides peace of mind through emergency failover connectivity should the primary (T1, Cable, DSL) connection go down.
Do you need cellular connectivity:

As a primary connection?
As a failover backup connection?
Do your retail stores have?

Diverse locations?
Narrow profit margins where a predictable, reliable and cost effective solution is required for internet connectivity?
Legacy phone lines or internet connection equipment (with higher cost and complexity)?
The Accelerated 6300-CX is available June 1, 2015.