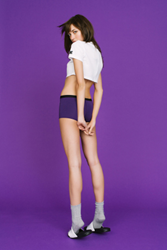 ...in a David vs. Goliath battle with underwear industry giants...they've increased revenue by 500%.
Los Angeles, CA (PRWEB) May 19, 2015
MeUndies has released the "All of Me" women's collection, the first women's underwear line developed entirely with the customer in mind.
MeUndies launched in early 2012, recognizing a void in the underwear industry. Using a direct-to-consumer model, MeUndies began selling a high quality product at an affordable price. But it was more than just high quality at competitive prices.
"We're creating a brand that's relatable and speaks to the consumer eye-to-eye. Our family of customers feel an emotional connection to our brand, something that's historically been missing in our product category," says Founder and Chairman, Jonathan Shokrian. MeUndies finds itself in a David vs. Goliath battle with underwear industry giants. Over the past two years, they've increased revenue by 500% and are up to 65,000 units sold per month, all sold online at MeUndies.com. By challenging the existing norms of the industry, they've made a significant dent in the market. "Angels, Justin Bieber, and David Beckham are the exact opposite of what we stand for."
"We see an opportunity to apply what we've learned over the past three years in men's to break into the women's market, and the data supports that," says Shokrian. Leading up to the launch of "All of Me," MeUndies began to see traction among their female base. Within the first quarter of 2015, they've seen a 275% growth in women's products sold. Social media outlets like Instagram play an instrumental role in that growth where over the past four months alone, the increase in content around the women's brief has been a main driver of the 100%+ increase in followers (from 39,000 to almost 90,000).
Shokrian continues, "We sent hundreds of prototypes out to our female customers and their feedback guided our development. We initially used the same components as the men's underwear, but soon learned women's needs are very different. We fine-tuned the women's waistband to gently contour the curves of woman's body and sourced the softest raw materials to ensure the most delicate touch." By collecting data through customer feedback and product testing rather than using solely fit models, MeUndies was able to develop the first-ever women's underwear line with a real customer in mind. "We're not telling women how they should look or trying to over-sexualize underwear like other brands out there. This is underwear suited for a real woman in today's world. Underwear that fits every "me" a modern woman feels on a daily basis."
MeUndies theorized that women play an important role in the purchasing decision of men's underwear as mothers or wives, and the data supports that claim. Over 60% of women who shop at MeUndies.com purchase at least one men's product. The "All of Me" collection is designed to bring women to the site to not only purchase underwear for themselves, but also to play an important role in the growth of the men's category. But again, it comes down to the brand.
"Although we sell underwear, we stand for so much more than the product. We're empowering people to live a life of boldness, and what's really important are the values and lifestyle that we stand for," says Shokrian.
About MeUndies:
MeUndies is a bold, irreverent, and personal expression driven lifestyle brand that is changing the way people think about underwear and basic apparel. Founded and based in Los Angeles, CA, MeUndies sources the highest quality fabrics to create the World's Most Comfortable Underwear. It's underwear with color, personality, and attitude that comes from a brand that doesn't take itself too seriously and isn't afraid to have fun.