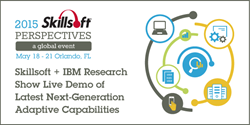 In this big data initiative, Skillsoft and IBM Research have developed a new patent-pending model and system for delivering precisely relevant content to learners at the moment of need.
Orlando, Fla. (PRWEB) May 19, 2015
At its 2015 Global Skillsoft Perspectives customer conference in Orlando, Skillsoft, a global leader in learning and talent management, will present live demonstrations of the latest next-generation adaptive capabilities the company has been developing with IBM Research over the past 18 months. The demo will highlight stage two of the multi-phase joint development effort IBM and Skillsoft have undertaken to harness the power of big data in enterprise learning and development.
At the event, attendees will see how IBM Research's big data analytics and natural language processing (NLP) technologies are applied across Skillsoft's trillion+ user content interactions, job roles and talent profiles and over 60,000 content assets, including rich text and video, and open knowledge bases like Wikipedia, to generate hyper-personalized learning paths. These goal-based learning recommendations are constructed and dynamically sequenced, based on historical content consumption and the semantics of a large number of courses and learning goals, to optimize employee engagement, knowledge retention, and performance.
"Combining IBM's data science digital capabilities with Skillsoft's content intelligence allows us to computationally model and personalize user journeys using self-learning systems," said Dr. Anshul Sheopuri, principal research staff member and senior manager of digital, IBM Research. "The system is able to infer relevant learning paths to the individual user and reason how goals are related to content and paths without manual curation or content assignment. This creates a highly engaging experience for users, accelerating talent development that is aligned to personal and organizational goals."
"In a world where employee engagement is the number one issue keeping business leaders awake at night, organizations must consider the most effective way to put their people at the center of learning and development programs," said John Ambrose, senior vice president of corporate strategy at Skillsoft. "In this big data initiative, Skillsoft and IBM Research have developed a new patent-pending model and system for delivering precisely relevant content to learners at the moment of need. In addition, this content is in a sequence that makes most sense for each individual to accomplish personal and organizational goals, thus fast-tracking their career development."
These new Big Data applications leverage findings from phase one of the project around how learning experiences can be customized to users' preferences to drive next- generation adaptive learning and integrated development. In the next phase of the initiative, this interactive prototype will be piloted with select customers and users.
During the conference, attendees can hear Dr. Sheopuri discuss how leveraging HR information and actionable insights can dramatically improve business outcomes on Wednesday at 9:30 a.m. in the Talent Analytics in Practice breakout session.
To learn more about the latest developments from Skillsoft and IBM, visit http://spotlight.skillsoft.com/adaptive-learning.asp
Tweet this: .@Skillsoft kicks off #Perspectives15 w/ demo of #BigData initiative w/ @IBMResearch http://ow.ly/N0Y1k
For more information on Perspectives or to view the full agenda, visit http://perspectives.skillsoft.com/2015/index.asp?id=agenda.
About Skillsoft
Skillsoft is a pioneer in the fields of learning and talent management with a long history of innovation. Skillsoft provides cloud-based learning solutions for its customers worldwide, ranging from global enterprises, government, and education to mid-sized and small businesses. Skillsoft's customer support teams draw on a wealth of in-house experience, flexible delivery platforms and a comprehensive learning e-library to develop off-the-shelf and custom learning programs tailored to cost-effectively meet customer needs. Skillsoft's courses, books and videos have been developed by industry leading learning experts to ensure that they maximize business skills, performance, and talent development.
Skillsoft currently serves over 6,000 customers and more than 19,000,000 learners around the world. Skillsoft is on the web at http://www.Skillsoft.com.
Skillsoft, the Skillsoft logo, Skillport, SkillChoice, Books24x7, and learning-centric Talent Expansion are a partial listing of the trademarks or registered trademarks of Skillsoft Ireland Limited in the United States and certain other countries. All other trademarks are the property of their respective owners.